Multilateral Diplomacy for Small States is the title of a book by former Guyana Ambassador and Head of the Foreign Service, Dr Rudy Insanally, that was launched on Friday at the Pegasus Hotel.
The work deals with Dr Insanally's extensive diplomatic service to his country and the international community. It is written from a small state perspective and analyses the vulnerabilities of small countries and the potential they have for overcoming these.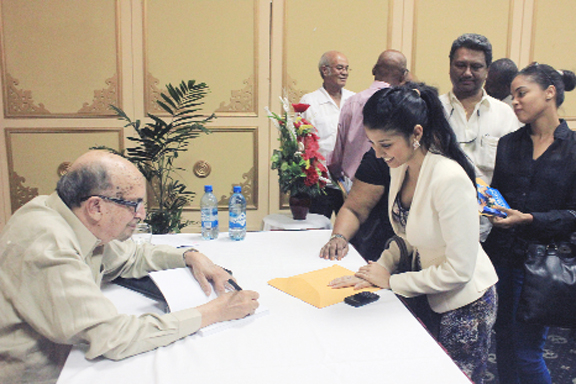 The author also addresses the major themes of diplomacy in the twenty-first century such as peace, security, democracy, development, human rights and the environment.
The work also contains speeches and addresses by Dr Insanally mainly during his period at the United Nations where he once held the presidency of the General Assembly.
It explains the author's role in conceiving and organizing the 1994 World Hearings on Development in an effort to advance the objectives of the agenda for development that was debated in the United Nations.
In a related connection, Dr Insanally's role in promoting the New Global Human Order advocated by the late Dr Cheddi Jagan was also touched on.
Dr Insanally was a former Minister of Foreign Affairs and Ambassador to Belguim and Venezuela, and has written extensively on international relations.
Speaking on what drove him to write the book, which is partly a memoir, Dr Insanally said he decided to put pen to paper before he became senile out of boredom after he retired.
The book is available for purchase at Austin's Book Store at a cost of $4,000 and part of the proceeds will go towards developing the careers of young diplomats and to charities.
Copies were also donated to the University of Guyana Library, the National Library, The Cheddi Jagan Research Centre and the Ministry of Foreign Affairs.
Around the Web