The Miss India Worldwide (Guyana) committee has announced that it will shortly hold a selection/audition/ screening to find the best possible candidate to represent Guyana at the international Miss India Worldwide Pageant 2013 to be held in Malaysia in April.
According to a press release, Chandini Ramnarain CEO of Apsara and National Director of the Miss India Guyana has revealed that this year the queen selected will go through a process. After a selection committee has picked the best suitable candidate, training will commence as early as possible to prepare the candidate for Malaysia.
The release noted that Apsara has staged two successful innovative local pageants in 2011, one of which included judges from the Bollywood industry and stunning performances from a previous Miss India Worldwide and finalist in Dance India Dance.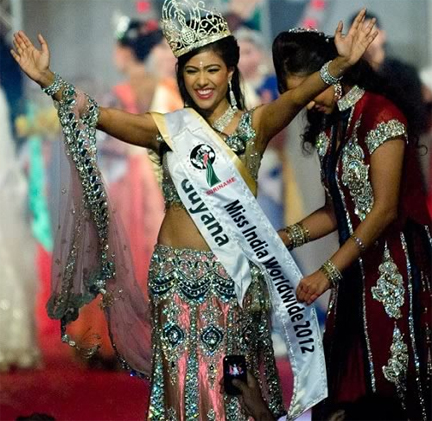 The committee has also managed to bring Guyana's first international crown home: Alana Seebarran (Miss India Guyana 2012) was the winner of the Miss India Worldwide pageant held in Suriname.
Ramnarain, who was also winner of the best National Director award for 2012, was  quoted as saying, "While we have had two national local pageants we have fielded four queens to date to the international pageant."
Along with Seebarran the others are Padmini Rambalak, Lucria Rambalak and Roshini Boodhoo and among them they won special prizes including Miss Congeniality, Miss Healthy Hair and Best Talent.
Around the Web