Seven doctors have begun to read for Masters degrees in Internal Medicine through a joint initiative by the Institute of Health Science Education (IHSE), Georgetown Public Hospital Corporation (GPHC), University of Guyana and the Institute of Human Virology, University of Maryland.
The programme, which started on January 14, follows on the development of postgraduate education at the GPHC in affiliation with the University of Guyana which was initiated in 2006. At present there are programmes in Surgery, Emergency Medicine, Orthopaedics and Trauma, Paediatrics, Anaesthesia and Obstetrics and Gynaecology. An opening ceremony was held yesterday.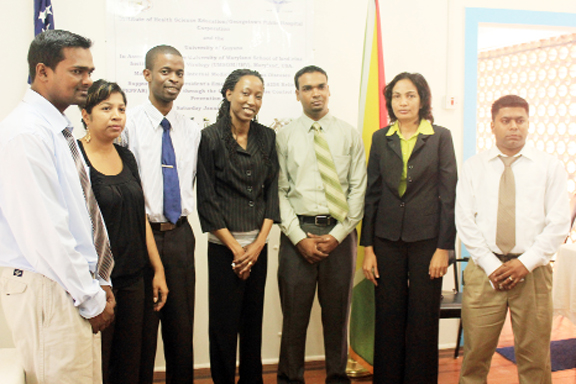 The programme is supported by a new five-year grant from the US Centers for Disease Control and Prevention (CDC) as part of the President's Emergency Plan for AIDS Relief (PEPFAR). Educators from the University of Maryland's Institute of Human Virology, the IHSE, GPHC, and the University of Guyana have designed the programme and are now embarking on theimplementation. It is accredited by UG and is a three-year programme, with a first intake of seven residents.
There will be a continuous presence of faculty from Maryland at the GPHC, supported by local faculty for the conduct of the programme.
The project's sustainability will be reinforced through the creation of a detailed strategy for fully transitioning the programme to the IHSE and UG's Faculty Of Health Sciences at the end of the five-year grant.
Dr Bruce Gilliam, Director, Masters in Internal Medicine/ Infectious Diseases, in his remarks said "We are grateful to the US CDC and PEPFAR for allowing us to move forward with this important project. It is our hope that providing high level training in internal medicine and infectious diseases at GPHC will not only increase the likelihood of physicians choosing to stay in Guyana, but also improve the quality of care as these highly trained physicians provide care for patients and training for other providers throughout the country."
Minister of Health Dr Bheri Ramsaran in his remarks expressed gratitude to the many partners involved in the programme. He said persons involved in the programme have to see it as a contribution from their mentors/lecturers and UG. The minister said Guyana has been benefiting significantly from PEPFAR. He noted that by next year 500 new doctors would have returned to Guyana.
Also present at the opening were US Ambassador to Guyana Brent Hardt; Dean, Faculty of Health Sciences, UG Dr Emanuel Cummings; Director IHSE Dr Madan Rambaran; and Director, Medical and Professional Services Sheik Amir.
The seven residents who have begun the programme are Dr Haimchand Barran, Dr Terrence Haynes, Dr Ramdeo Jainarine, Dr Kumarie Jaipersaaud, Dr Kishore Ramdass, Dr Kamela Bemaul-Sukhu  and Dr Grace Waldron-White.
Around the Web