A communiqué aimed at addressing issues in a collaborative manner was signed between the Guyana Trades Union Congress (GTUC) and the Guyana Public Service Union (GPSU) yesterday.
The communiqué comprises a plan of action that will address the upholding and restoration of collective bargaining in the public sector and the protection of the National Insurance Scheme (NIS).
The document will also seek to pursue a national programme for the creation of decent jobs that are consistent with International Labour Organisation standards.
President of the GTUC Norris Witter said the communiqué is of great significance to the labour movement in general and both organisations have reached a junction where they believe it is important to work collectively.
The two organisations will seek to pursue the establishment of the arbitration tribunal to address the dismissal of workers by the Bauxite Company of Guyana Inc (BCGI) and the amending of the Guyana Constitution to respect the will of the workers for representation on the Public Service Commission.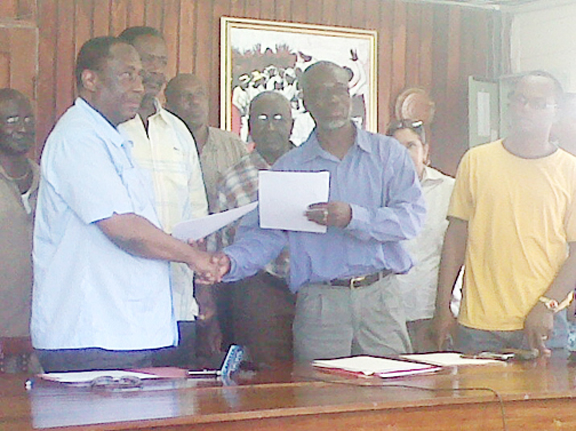 Meanwhile, President of the GPSU Patrick Yarde told reporters that they have consciously decided to collaborate with any organisation that is focused on being able to improve workers' rights.
Trade unionist Lincoln Lewis said in his address that the signing must be seen as a reflection of the party's collective determination to pursue the desires of the workers past, present and potential.
He said "the GTUC and the GPSU have embarked on a new phase in their relationship…we need to be reminded that labour has an abiding interest in every citizen from the womb to the tomb…"
Around the Web