Five days after businessman Imtiaz Roopnarine called `Bobby' was gunned down in the compound of the Cool Square Guesthouse, his killer remains at large.
Police sources told Stabroek News yesterday that there had been no arrest in the case but assured that investigations are continuing. One of Roopnarine's closest friends said that he has heard nothing new about the case.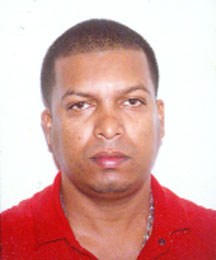 This newspaper was told that the police are checking all possible angles and are still to determine whether the motive was robbery or if it was a hit.
The last word from Crime Chief Seelall Persaud was that images from surveillance cameras located near the scene of the shooting were being enhanced.
Persaud said that although there are claims by the man's relatives that a gold chain and a gold band that he was wearing were stolen by the gunman who chased after him, the investigators were still looking to see if the shooting was robbery-related. He noted that there are a number of factors that the police are looking at, including Roopnarine's deportation from the US for aggravated assault, to ascertain why he was targeted.
Roopnarine checked into the West Ruimveldt hotel around 4 am last Thursday and as he was about to leave around 5:30 am he saw the gunman. In a bid to escape from him he ran around the side of the building but was pursued by the gunman who scaled the fence. He was later shot in the mouth.
Sources told this newspaper that based on the information gathered by investigators, two men were seen lurking outside the guesthouse just before the shooting. It is believed that the gunman was one of those men.
Around the Web