A four-year-old boy was stabbed to death yesterday by a man he knew well moments after the killer had sexually assaulted a woman in a Wismar, Linden home.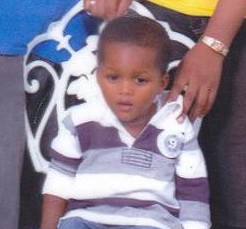 The perpetrator who according to reports recently lost his job at the Linden Post Office was arrested by police last evening.
Jamal Nedd, a student of the Burnham Drive Nursery School was stabbed about five times about the body and the instrument used – a knife- was left sticking out of his back. He died while being attended to at the Linden Hospital Complex (LHC).
Police in a press release said that investigations have revealed that a man had entered the home and sexually assaulted a woman who managed to escape. The woman according to the police ran outside upon Nedd's arrival from school.
The perpetrator, the police said, then held the child at knife point and threatened to kill him if the woman did not return to the house.
"She refused to do so, whereupon the suspect stabbed Nedd several times about the body and escaped".
The stabbing occurred around 1340 hours.
The incident has left residents of the mining community in shock. This newspaper was told that the child's mother was inconsolable and was receiving counselling at the LCH.
A hospital official told this newspaper that the child sustained stab wounds to the abdomen, back and thighs. The official said too that the child had wounds to the knees and lacerations to both of his legs.
Stabroek News was told that when the child arrived at the institution, he was still alive but died shortly after the knife was removed. The knife, this newspaper understands, was plunged into the child's back and pierced his chest.
Neighbours related to this newspaper that the child returned from school to find the man committing the assault. It was at this point neighbours said that the woman took the opportunity to escape the man who was by that time threatening her with a knife.
They said that the child's mother was not at home at the time of the incident. Nedd's father resides overseas.
Around the Web