Lester 'De Professor' Charles last night sung his way into the hearts of the judges, with "god Nah Sleep" to win the 2013 Calypso Monarchy and $600,000.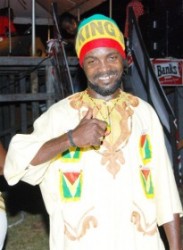 De Professor came out brightly dressed singing about the wrongdoings of the government. He said government  members must be mindful that they will get what they deserve from God.
The audience reacted to sections of the song which referred to specific government members like Roger Luncheon. They sang along to the chorus and gyrated in their seats. A crowd of his supporters moved towards the stage where they danced throughout his entire performance.
De Professor dethroned 2012 Calypso Monarch 'Young Bill Rogers' who seemed to have been on a winning streak, having taken this year's Chutney Monarch title. This is De Professor's third Calypso title. He previously won the crown in 2009 and 2011.