Guyana's Permanent Representative to the United Nations, George Talbot, has hailed the late Venezuelan leader Hugo Chavez as a "true friend to Caricom" noting that his passing has saddened the Community.
In his reflection on behalf of Caricom, Talbot said Chavez's passing has touched the Community with sadness and a profound sense of loss.
"The overwhelming presence of Caricom Heads in Caracas on March 8 (the funeral for Chavez) gave eloquent testimony to the high esteem in which this remarkable and courageous leader was held by the governments and peoples of our region," he said, according to a press statement.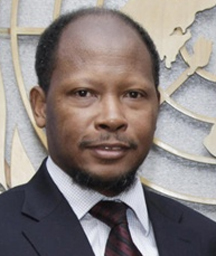 Talbot also recalled the tribute made by Chairman of the Conference of Heads of Government of the Caribbean Community, Haiti President Michel Martelly, that Chavez had "opened a new chapter in relations between the countries of Caricom and Venezuela with his generosity and deep interest in the welfare of the peoples of the Community."
Martelly has said that Chavez's generosity to Haiti following the 2010 earthquake will never be forgotten; neither will his desire to improve the lives of the less fortunate in his country, the Caribbean and in Latin America.
According to Talbot, Chavez demonstrated his solidarity with the governments of the Region through tangible acts of co-operation which redounded to the benefit of the people.
"In this respect, his tremendous advocacy for South-South cooperation and self-reliance was, indeed, a bold and determined appeal for sustainable development and economic prosperity of developing countries; an appeal which challenged leaders to combat inequality and injustice at the individual, national, regional and international levels and to work for the common good," the permanent secretary said. CELAC, ALBA, UNASUR, PetroCaribe, Petrosur, Banco Del Sur all bear testimony to his outstanding work in concert with others, he added.
Chavez left "an indelible imprint on Latin America and the Caribbean, and indeed the world." Talbot said he will be remembered for the love and high aspirations he held for Venezuela and his fellow compatriots and again extended condolences to the government and people of Venezuela.
Talbot said he was confident that the strength and spirit of the Venezuelan people, so strikingly exemplified by Chavez, will sustain them during this time of grief and assure that nation's future during this season of change.
Around the Web