Relatives of the Capoey, Essequibo woman, who died at the Georgetown Public Hospital following a C-section performed at the Suddie Hospital, say they are unlikely to know any time soon the results of an autopsy performed yesterday.
Sharon Edwards, 42, died at the Georgetown Public Hospital (GPH) at around 8pm on Easter Monday, a day after being referred from the Suddie Hospital, where she underwent a caesarean-section, developed complications during surgery and fell into a coma.
Her family had lamented the treatment she received both at the Suddie Hospital and the GPHC.
Her baby, a girl who has been named Yolani Edwards, survived the operation and is home on the mission with the rest of her siblings.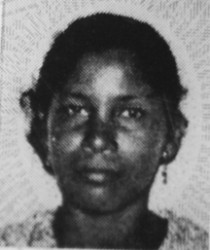 Chief Medical Officer Shamdeo Persaud yesterday told Stabroek News that he was aware of the death and that investigations were ongoing and he will soon receive the file to determine if it will go to the Expert Committee on Maternal Deaths. "The process has begun, it was reported and the information is being put together as they have up to seven days to get the report to me," he said.
Yesterday, Edwards' aunt, Malene told Stabroek News that while the autopsy was performed  they were not told by the pathologist the cause of death of the woman. Instead a hospital employee stated that they have to wait two weeks on the death certificate.
She said that her family also found perplexing that no member was allowed to witness the autopsy and were told that they could not be in the room.
The Chief Medical Officer explained that the family member is only there to identify the corpse as having them witness the cutting of the body poses health risks.
Edwards's family explained that they will be taking her body to Capoey for the funeral today and did not have the time for "rowing with nobody". They said that their concern was getting the body to the Amerindian reservation and that the $30,000 offered by the Ministry of Amerindian Affairs was insufficient. They said that relatives and the community are coming together to pool resources to get the woman home and to give her a burial.
The family is also seeking assistance for the newborn as her mother ran a cottage industry business and was a housewife.
Around the Web