The $160M, 50-room, four-storey Millennium Manor Hotel was opened last night at 43 Hadfield Street.
In a brief opening ceremony, proprietor Lancelot Bacchus said that this venture was part of their efforts in returning home to share in the development of Guyana's tourism industry.
The Werk-en-Rust hotel is located two buildings east of Camp Street.
Bacchus expressed thanks to Go-Invest for giving them the opportunity to return and invest in the country. He said they felt the need to build the hotel so that they can give back to Guyana.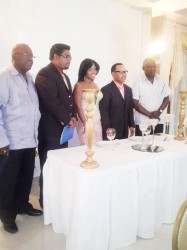 Minister Irfaan Ali, Minister of Tourism said that this hotel will not only contribute to economic development, but also the social development of Guyana. It will also create employment for many.
The facility boasts both single and double rooms and a presidential suite on the fourth floor. A polo lounge on the fourth floor is also available for persons who want to just have a drink. Rooms include a 50-inch flat screen TV, tiled floors, ac units and a Jacuzzi in the presidential suite.
The Millennium Manor hotel is a project developed by Lancelot and Yonette Bacchus.
The hotel can be contacted on Tel: 640-4731 or 627-3958
Around the Web