While government speakers trumpeted its achievements and urged support for its proposed $208.8B budget, AFC MP Trevor Williams on Wednesday evening signaled that his party would not support some of the key allocations proposed unless the administration is accountable for the spending to the National Assembly.
Williams, who was the first member of his party to participate in this year's budget debates, told the House that the AFC would be supportive of any budget that seeks to address the needs of the nation and he noted that the opposition "has taken great pains to highlight to the administration the importance of consultation in any process aimed at national development."
He, however, questioned government's "haste" with the construction of the Marriott Hotel, the Cheddi Jagan International Airport, Timehri (CJIA) Expansion Project and the Specialty Hospital and also accused the administration of using the cover of the High Court ruling on the budget cuts to fund its ICT project to the tune of $1.9B, without parliamentary approval. "This is a dangerous precedent," he noted, while saying that the AFC will not support any further monies for the project until this situation is regularised. "Thus, we cannot support the government plans to spend $2B on the ICT cable in 2013. They must be accountable first to this House before we can support them. This is not their money, this money is the people's money," he said.
During his budget speech, Finance Minister Dr Ashni Singh noted that $1.9B was spent last year on acquiring and installing over 580 kilometres of fibre optic cable from Lethem to Georgetown, with 5 repeater stations along the route; constructing and commissioning the e-Govern-ment datacentre, which is now being tested; and procuring the equipment and software for 54 Long Term Evolution-Advanced (LTE-A) sites. This year, he added, over $2B is budgeted to advance this work, which upon completion would see delivery of e-Government services and content to the major population centres.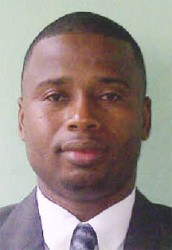 Williams also noted that the AFC is yet to see the feasibility study for the CJIA expansion project. Until all members of the House can access the feasibility study, he said "the AFC is not in a position to support any funds being disbursed on the airport expansion project" and would be voting against the $5.3B set aside for the project until its conditions are met.
Singh said the $5.3B allocation is for the upgrade, expansion and modernisation of CJIA, which would see the construction of a new terminal building, aprons, air-bridges, taxiways and the extension of the runway by a further 3,500 feet. This project will provide Guyana with the infrastructure to accommodate the widest variety of aircraft type, and become an international travel hub, he also said.
In relation to the Ministry of Culture, Youth and Sport, Williams questioned what regional sport development plans are in place and what sorts of jobs are being created for the youths. He also questioned what government plans to do to tackle teen violence, substance abuse and armed robberies. For years, he said, the House has been approving the sum of $100M under the name "Sports Development Fund" and he wanted to know how exactly the money is being spent.
During his presentation, Williams also described the East Bank Berbice road as a mud field, while noting that President Donald Ramotar failed to honour promises made during a visit to Plantation Highbury one year ago. "This government is really in need of a Red Bull or a five hour energy drink to wake them up, since the people cannot sit by and wait forever for them to wake up," he added.
Benefits
PPP/C MP Dr. Vishwa Mahadeo, in his presentation, highlighted how Region Six benefited tremendously from the millions of dollars which have been pumped into its public works and health sectors by government.
He acknowledged that "there were areas where we could have done better" last year but added that from all the experiences, "we have learnt" and have taken the necessary corrective efforts where possible. "Region Six has progressed over the last year and I can say with a clear conscience that we are better than where we were before," he said, amidst loud table banging by his fellow PPP/C MPs.
Mahadeo said that last year bridges were built across the region and some $67.7M was spent on several community roads. In addition, $22M was spent on setting up a road network. He said that all of the works done were inspected by the Regional Democratic Council works committee before payments were made. This committee, he noted, is made up of members from all three political parties.
In the area of health, he said, $31.5M was spent on building, $6.5M on an ambulance and $21.5M on medical equipment. He said that a building was constructed to house a new x-ray at Port Mourant Hospital and a new health centre was also built.
Mahadeo also used his presentation to respond to some of the comments made by APNU MP Dr. George Norton earlier in his speech.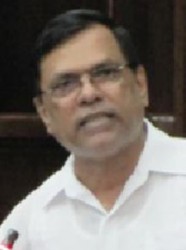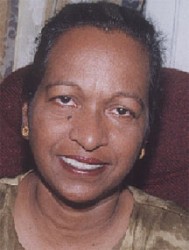 Norton had said the Bartica Hospital's yearly drug supply had not been delivered and that there were no reagents to do lab work at the facility, forcing patients to seek care at private labs.
Mahadeo, however, challenged the accuracy of Norton's claim in relation to the reagents for testing, saying that he was told by a representative of Region Seven that reagents are available at the hospital.
Norton had also urged that a protocol be established requiring domestic airlines to put a system in place for emergency medical evacuation.
Mahadeo said that medevacs do not come off as smoothly as they ought to and he attributed this to the preparation time and coordination. He said that it takes two pilots to do a medevac flight at night, according to the law. "That cannot be changed by the Ministry of Health," he said, while noting that in 2011, 105 successful medevacs were done and in 2012 there were 112 such transfers.
Mahadeo also urged all MPs to always share their ideas and to not wait until budget time to do so. "We want to share your ideas and we would really like to have your suggestions," he said.
Striking a balance
Also addressing the Assembly was PPP/C MP Indra Chandarpal who urged MPs to embrace the budget, while noting that the PPP/C government strives for development at a national level while satisfying the needs of people at a personal level.
Chandarpal said that the allocation of resources for the social sector has been maintained during the party's tenure in office and that over the years the aim has always been to strike a balance between the needs of the people and the physical infrastructure of the country, while ensuring macroeconomic stability.
The "steady and continuous economic growth achieved by government would not have been possible without substantial investment in infrastructure and it is for this reason that investment in this "critical sector" will continue," she noted, saying this is another reason why all MPs must support the budgetary measures required to invest in critical infrastructure.
This year, she added, will see the injection of resources into the areas of air and river transport, which will help to modernise Guyana. She also spoke highly of some of the government-led interventions, such as the One Laptop Per Family project, the school uniform programme and the treated bed nets project in hinterland areas.
"The 2013 budget will bring relief to those who are vulnerable, to the young people who are aspiring to become students at the University of Guyana, to the first time home owners… and to all those who want to see Guyana as a nation on the move," she said.
Around the Web