Minister within the Ministry of Finance Juan Edghill says that the Government has developed a code of conduct and code of ethics for Ministers and members of Cabinet as further efforts to strengthen the fight against corruption and to bring greater transparency in Government.
He was speaking yesterday during the third day of the budget debate in the National Assembly.
"Government views corruption as something that must be abhorred. For us it is repugnant. It is something that must be vehemently resisted. Mr. Speaker it is within that context sir that we have put measures in place [that] among our members of Parliament and Cabinet we have a code of conduct and code of ethics," he said.
He added that at the Ministry of Finance now has an internal audit division staffed by an Audit Manager, with four audit supervisors and nine auditors.
"It is interesting to know sir that there is a permanent presence of the [Audit Office] at the Ministry of Finance. So the Auditor General is not just checking after the fact. While the transaction is taking place the Auditor General is present along with the internal auditors," said Edghill.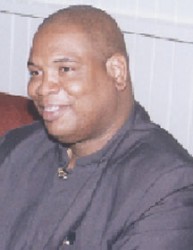 He also spoke of there being significant legislative reforms over the past years strengthening Guyana's management of public finances. "During 2003 – 2004 the Fiscal Management and Accountability Act, the Procurement Act, the Audit Act along with their accompanying regulations were passed," he said.
He said that Section 29 of the Fiscal Management and Accountability Act provides for there to be an internal audit function and he called this a key aspect of good governance by ensuring accountability and transparency in public institutions.
Procurement
He said that transparency, efficiency, economy, accountability and fairness are important elements, noting that every day one hears of these concepts in the public domain. "The National Procurement and Tender Administration insists on the use of open tendering. I can stand and report to this National Assembly that 80 percent of all funding that comes from the public treasury for projects [have open tendering as the method used]," Edghill said.
He said that Government hosted a forum last year on procurement where all stakeholders in procurement from Central Government to the regional and neighbourhood democratic organs were invited and lectured on strict compliance. "Right on the heels of that sir, you know what we did? We invited 450 contractors, consultants, engineers, people who bid for public projects, who provide goods and services and educated them on the public procurement systems and educated them on their rights as relates to the law because when people are properly informed it helps the system to be m
ore open," he said. "They know that if they are not being treated fairly they can make appeals. They have been provided with standard bidding documents. They have been assured of objective criteria when projects are being evaluated, not subjected to subjectivity," he said.
"Mr. Speaker, I am not going to stand here and pretend that everything is 100 percent perfect, but I could assure this National Assembly that the administration is providing the architecture to ensure that the systems work in keeping with the law," he said.
Old Age pension
He reminded the House that in light of all that has been said about the adequacy or lack thereof of the Old Age Pension, it is a non-contributory pension. "It is something that all Guyanese get. Out of the 42,000 Guyanese that will benefit from the $12,500 proposed [in the budget], about one percent of that amount will probably not need the pension," he said. He said that since the pension was raised to $10,000 following the budget of 2012, the list of persons eligible for pension is expanding.
He said that Old Age pension is not the only thing that someone who reaches the age of 65 is entitled to. He said that persons would also benefit from pensions from their place of employment and from the National Insurance Scheme.
Edghill pointed out that the minimum Government pension is just above $18,000 and in like manner, the minimum pension from the NIS is just over $18,000. "When you add the Government [employment] pension with the NIS pension to the Old Age pension plus the subsidies that they are getting at the end of every month, it is a minimum of $50,162,", he said.
Around the Web