APNU MP Volda Lawrence has dubbed the government's proposed budget "anti-poor," saying that while it signals growth in some areas, it has little to help the most vulnerable in society.
The $208.8B budget blueprint was presented by Finance Minister Dr Ashni Singh under the theme, "Overcoming Challenges Together, Accelerating Gains for Guyana," but Lawrence told the National Assembly on Thursday that some of the most vulnerable groups, such as the poor, children with disabilities and teenage mothers, are unable to overcome the challenges they face. As a result, she capped her presentation with several suggestions to the government, including paying public servants living wages; upgrading schools to provide special education for the differently-abled; establishing a national center of division for children with disabilities; providing assistance for the young adolescent mothers; constructing housing units for those who are in the extreme poverty bracket; and providing training and scholarship for social workers.
An emotional Lawrence said that despite increased spending through the child welfare division, the "attacks" on the nation's children continue "unabated." In 2012, she noted, there were 2,030 cases of abuse as against 1,860 in 2011 in addition to the rise in neglect cases to 2,252 last year, from 1,877 in 2011.
It was against this backdrop that she lamented the fact that while Attorney-General Anil Nandlall had indicated that the purchase of furniture and advertisement for staffing of the Family Court was on track, four months into the new year the court is still not a reality and remains "a white elephant." "We believe that notwithstanding the use of the Magistrate's Court for some family matters, the urgent establishment of the family court is necessary. So I urge this government to get on with the business of having our family court operational," she said.
'Endangered species'
Turning to the increasing cases of violence against women and children, Lawrence said both groups are "endangered species" and that it is time for the government to "give life to the many laws passed in the Honourable House and assented to by the President, as well as, the several international conventions."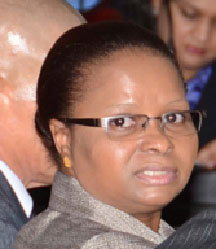 She was hopeful that the police force and the Human Services Ministry would do more to deal with the problem and that the response would see men and boys becoming the primary focus since "99.9% of the time, they are the perpetrators." "Let us seek out new approaches in this national scourge," she declared, to loud desk thumping from her colleagues in APNU. She also invited the House to support her colleague Deborah Backer's parliamentary motion on 'Interpersonal Violence,"
According to Lawrence, young girls are also in trouble and need assistance as they are becoming mothers and they live in a world which has conflicting expectations of them.
"In almost every case, the problems of adolescent mothers lead back to their childhood experiences and, if one should investigate further, we will find that many may have been born themselves to an adolescent mother. So the cycle continues," she said.
She suggested that a policy paper on adolescent mothers be presented and that some interim measures be put in place to assist this vulnerable group.
Lawrence also said that not enough is being done for the differently-abled. The David Rose School, she said, is a "neglected place" even though it houses many differently-abled children.  "Yet Mr Speaker, year after year budgets are brought to this House and there is no mention of rehabilitation works, nor upgrading of equipment," she pointed out.
And while the disability legislation speaks to buildings having access for the differently-abled, Lawrence said a check at all the newly-built schools revealed that no such provisions have been made.
'Haves and have-nots'
Lawrence, who is an accountant, also argued that the budget plans fail to address the disparities between the "haves and the have-nots" and said the government has failed to share the wealth of the nation with those that fall within the poverty bracket or are falling through the cracks. She asked how are people in this category coping when the consumer price index shows a 10% increase in food over the previous year and also 10.3% increase in medical and personal care.
Despite the 'Grow More Food' campaign, Lawrence said, the price of food items continue to rise and she questioned how a couple making a combined salary of little over $100,000 with a $47,000 in mortgage, children in school and daily travel costs for work could survive.  The poor, she further said, are asked to pay for house lots they cannot afford and even if they pay they cannot afford to build a house due to their inability to meet the requirements of the banks to access loans. And despite talks of setting up an information centre for first-time builders, this has not materalised, leaving many first-time builders to the mercies of unscrupulous contractors, she added.
"There has been much talk and propaganda about the thousands of house lots being allocated, but what provision is being made for the very poor who cannot afford to purchase those house lots?" she questioned.
Also addressing the announcement that old age pensioners will be given the assistance of $20,000 per year to assist with electricity costs, Lawrence said she was impressed until she read that it is only for pensioners who are Guyana Power and Light Company (GPL) customers. It means that this assistance is only for 29,500 of the 47,351 registered pensioners and discriminates against those who are not customers of GPL but who may have to pay for electricity, she said, while adding that she has since penned a letter to Minister Singh to consider widening the reach of the proposed assistance.
Around the Web