The state-owned Guyana Chronicle has "unreservedly" apologised for an article published on Wednesday which deliberately altered statements by APNU parliamentarian Keith Scott during his contribution to the debate on the proposed 2013 budget.
The apology followed a ruling on Thursday by Speaker of the National Assembly Raphael Trotman, who said that the Chronicle and the online news agency INews violated the rights of Scott by altering what he had said in relation to mining in Guyana and warned that the entities faced sanctions should they fail to apologise.
It is not clear whether INews has apologised publicly but on Thursday just before informing the House of his ruling, Trotman said that he had received a letter from the entity in which it accepted that it erred. The Speaker said that while he commended the online news site for accepting that it erred, it still must apologise. Subsequently, Clerk of the National Assembly Sherlock Isaacs attempted to ascertain who were the managers of INews but was unsuccessful.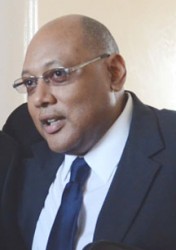 The offending article was posted on INews on Tuesday and it was shortly after this that Scott lodged a complaint. Trotman ruled that the editors of the entities had up to yesterday to make a "full and unqualified apology, and retraction of the story… at the same level and manner of publicity as was given to the false story."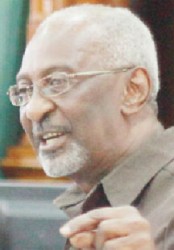 Trotman, in his seven-page ruling, said that should the publishers fail to abide by the ruling, "the House will be moved at the earliest opportunity to consider allegations of contempt against the Publishers and to recommend an appropriate sanction."
The Speaker said that after reviewing the articles and the Hansard, he believed that Scott has been "disrespected and his privileges violated by the publication of this grossly false story."
The Speaker stated that "it is pellucid that both the content and context" of Scott's statements had been altered as there were no reference to the words "destroy" and "rape" as reported by the entities. Further, he said that the alteration is "so vast that the explanation of a grammatical slip, or misinterpretation, will be too incredulous and unbelievable to be acceptable." Further Trotman said that there is no doubt that Scott's words were "deliberately altered to create a negative impression of him."
Around the Web