About 316 students in Buxton and the surrounding communities are expected to benefit from three internet-ready computers donated by the Canadian High Commission and the Guyana Telephone and Telegraph Company (GT&T).
The computers were handed over yesterday to the Buxton Youth Development Centre, a community organization whose aim is to improve the lives of children by using sports as a medium. GT&T will provide one year of free internet access.
Canadian High Commissioner David Devine told the children at the presentation that the computers are tools which will open up the world and will help them in getting access to information. He described the project as a great one and encouraged the children to take advantage of the computers.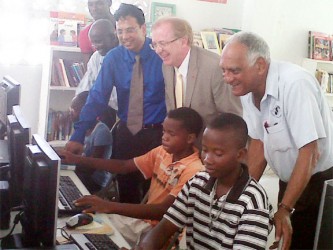 Chief Executive Officer of GT&T Radha Krishna Sharma stated that his company readily agreed to be a part of the effort and said that the computers will supplement the formal academic environment.
Founder of the development centre Robin Phillips stated that the computers will be used for their classes on Saturdays. He said that his organization use sports as a medium to attract the youths. Children who go to the centre are involved in sporting activities but are also required to attend afternoon classes where Mathematics, English, Science and Social Studies are taught. Classes are also held for school dropouts and others who are interested in learning. All of the classes are free.
Around the Web