The Ministry of Human Services and Social Security in collaboration with the United Nations Development Programme (UNDP) over the Easter weekend embarked on a campaign in Region Nine to educate residents and visitors on the issue of Trafficking in Persons (TIP).
According to a release from the Government Information Agency (GINA), over the past years, the ministry has sought to heighten awareness of TIP, and in the process has been visiting several regions, targeting communities that are most likely to be affected by TIP.  During April, the campaign will continue in regions One and Seven.
A team of four, including representatives of the Ministry of Human Services and UNDP, visited several Region Nine communities, including Shulinab, St. Ignatius and Moco Moco, to interact with the residents and distributed posters, flyers, bags and pamphlets with messages related to TIP.
The team also had a booth at the annual Rupununi Rodeo held in Lethem, since many residents of various parts of Region Nine attended the two-day event.
The team engaged the residents of Shulinab, St. Ignatius and Moco Moco among others, holding a workshop to educate residents on how to better recognise and deal with matters involving human trafficking.  The workshop also sought to assist residents to understand the difference between smuggling, child labour and TIP.
The release said that human trafficking can be defined as an organised criminal activity in which human beings are treated as possessions to be controlled and exploited (being forced into prostitution or involuntary labour).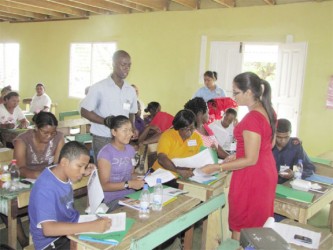 During her presentation at the workshop, Counter-Trafficking Unit Coordinator, of the Ministry of Human Services, Tricia Watson gave a detailed explanation of TIP which she said affects mostly youth who have just completed their secondary education.  She explained that trafficking is a violation of human rights and coercion for exploitation, while smuggling can be described as an organised illegal border crossing.
According to the release, most times victims are forced into becoming labourers, whether in agriculture, fishery, construction or mines.  Sexual exploitation occurs on the streets, in bars, brothels, and massage parlours, or while in domestic servitude.
According to Guyana's laws, trafficked persons are entitled the right of physical safety and protection, protection of privacy and identity, legislative protection, legal assistance, access to diplomatic and consular representatives and direct assistance services.
Watson said that she is optimistic that at the end of these workshops persons will be well prepared to deal with such a crime.
According to the release, UNDP technical advisor, Trevor Benn emphasized the importance of ensuring that the people that are most likely to be affected by TIP are made more aware of the issue.  He said the UNDP stands ready to support the Guyana Government in the fight against TIP.
Benn said that through these projects, persons who fall victim can receive support for themselves and their family, and the community in which they reside.
Following the workshops, there will also be a 'train the trainer' session in George-town which will include representatives from the communities which participated in the workshop.  This will facilitate follow-up sensitisation and a wider reach in the hinterland communities.
GINA said that last year, the ministry received 32 reports of TIP but following investigations, only six cases were confirmed, and are before the courts.
Around the Web