Micro and small scale businesses stand to see their capacity and productivity increase through a non-reimbursable US$5 million agreement signed yesterday between the Ministry of Finance and the Inter-American Development Bank (IDB).
Finance Minister Ashni Singh, signing on behalf of the Ministry, said that the initiative – long in the making – will be implemented by the Ministry of Tourism, Industry and Commerce along with Guyana's Small Business Bureau and will facilitate the development of Guyana's Micro and Small Business Enterprises.
Signing for the bank was Sophie Makonnen, the IDB's Country Representative, who explained that the funds were approved by the Bank's board on February 22nd and are drawn from the Guyana REDD+ Investment Fund (GRIF), a multi-contributor trust fund for the financing of activities identified under the Government of Guyana's Low Carbon Development Strategy (LCDS). Funding comes mainly from the forest protection agreement signed between Guyana and the Kingdom of Norway. The IDB is the intermediary in this project.
Singh said that though this is not the largest signing between the two entities, it is still monumentally important especially since it will support the development of the private sector, particularly those sectors relevant to the furthering of the LCDS. The Minister said that the private sector plays a monumental role in the development of Guyana's economy. As such investment in the private sector, said the Minister, is an investment in the country's development.
The funding he said will go towards alleviating structural problems and carrying out capacity development and training for many persons and companies who lack the necessary expertise. Singh also said that the development of these areas will likely see more and more persons gravitating towards it, as the benefits become apparent.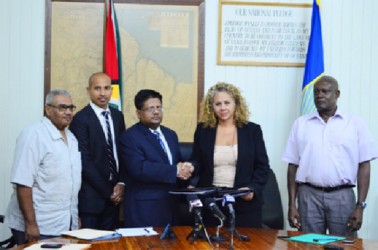 Also important to the development of the micro and small enterprise is access to financing. Singh said "access to financing is and will continue to be one of the most important factors to bolster growth in Guyana." He noted however that it is also one of the leading impediments to development. To address this concern, he said that a Credit Bureau will be set up to facilitate easy and affordable access to financing.
In addition, he said, banks, which are the sources of much of this finance, must not be too punctilious as it relates to qualifying documentation and other requirements to access loans. He said that while he realizes the importance of such procedures, banks must not allow their bureaucratic processes to be a hindrance.
Around the Web