Could the rude taxi driver soon be a thing of the past?
A code of ethics for taxi services and drivers has been established and includes a provision for the public blacklisting of drivers who consistently breach it. In addition, the code will serve to regulate not only what the drivers wear and their conduct and customer service, but also the condition of their vehicles.
Members of the public will have an opportunity to phone in and voice their concerns since a hotline will be also established.
The Ministry of Tourism, Industry and Commerce and the Guyana Taxi Service Association signed the ethics code yesterday at the boardroom of the ministry on South Road. It was prepared and revised by the ministry and the Guyana Tourism Authority following meetings with stakeholders and was endorsed by the Ministry of Home Affairs.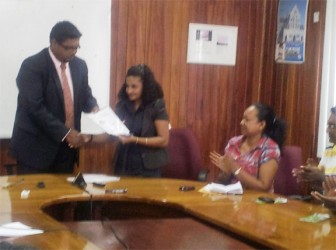 Tourism Minister Irfaan Ali, at the signing, said that the ministry is working on establishing a National Transportation Association, which will focus not only on drivers on the roadways but also those on the rivers, where there have been boat accidents recently.
Ali also said that they have to enforce rules when it comes to persons who are operating as taxis, those cars registered as private. He said that such operators have no benefits and insurance for customers if they are involved in an accident. Those operators are operating illegally because they are not authorised to operate as a taxi, he said, while urging the public not to support them.
Vice-President of the Taxi Association Sunil Persaud said that it has established a database as part of the code of ethics, since there have been a number of experiences with bad drivers, such as those who wreck vehicles and those who do not want to pay the taxi services. This database will, however, not be available to the public.
Persaud added that the government is working on including a 25% reduction on excise tax charged on vehicles imported for registration as a yellow cab. He also emphasised that it is important for taxis to join the 'yellow initiative,' since it is easier for persons, especially tourists, to identify them.
Around the Web