The search for fisherman Altaf Mohammed Ali, whose family believed he was missing, ended on Friday morning at the Georgetown Public Hospital mortuary.
Ali, 45, also known as "Cat," of Lot 179 Ravindra Street, Annandale South, had been the victim of an accident along the Lusignan Public Road, where he was struck down by a car as he was riding his bicycle on Tuesday.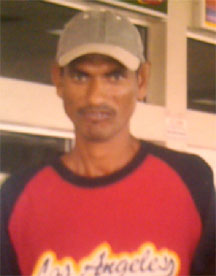 According to the police, the accident occurred at about 7:30pm and Ali was subsequently taken to the Georgetown Public Hospital, where he was admitted for medical attention. He had not been seen by his family since he had left the house that day.
Ali's nephew, Martin Hookum, said that his uncle left his home to go and sell seafood around 6pm.
Hookum said that the next day, after Ali failed to return home, the family reported him missing to the police. They also inquired if he was a patient at the Georgetown Hospital, he added. "When we go to the hospital, there was no sign of him in the wards and the hospital people said that they had no records of him being here. When we return on Friday at the mortuary, he was there," Hookum said.
Hookum said that based on his own investigation, he learned that his uncle was struck by a car driven by a Canadian national, who had been driving a rented vehicle. He said he was told that the man hired a car to take his uncle to the hospital, although he was told that Ali died on the spot.
Hookum added that he later tracked down family members of the driver but they denied knowledge of his whereabouts.
He said too that the police had notified him that four persons were held in connection with the accident and were later released.
"It is not easy to lose a loved one and not know how they died, especially in a manner like this," Hookum said.
Ali, who was single with no children, was remembered for his jokes and willingness to help others in need.
A post-mortem examination is scheduled to be done on Monday to determine what caused his death.
Around the Web