At 73, all of Maude Whyte's six children were adults and she enjoyed being a grandmother and not having the day to day responsibilities of taking care of children but then life took an unexpected tragic twist and she found herself being responsible for five children, the youngest being a mere two years.
May 26 will be two years since Whyte's daughter, Jacqueline Cato, a widow, died suddenly leaving her five children behind with no one else to care for them.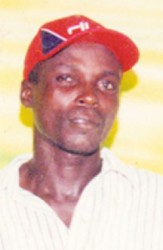 But Whyte never hesitated in taking on the responsibility of raising her five grandchildren telling the Sunday Stabroek that she never considered leaving them in state care.
"No!"  Whyte said when she was asked if she considered leaving the children with the state, "I never considered it, I know God would help," the now 75-year-old woman said during a telephone interview.
Whyte recalled that her daughter had taken ill a few days before she was taken to the hospital, and one day after she was hospitalised she died and her children were left orphans.
The 35-year-old Cato had apparently never gotten over the brutal murder of her husband, Ronald Cato, who was killed by bandits on July 14, 2010 at his Enterprise, East Coast Demerara, construction work site where he was employed as a security guard.
No one has ever been charged for the man's murder.
Cato was killed as he struggled to maintain his family of seven – five children and he and wife – and when he died an already bad situation became worse.
"Ah don't know what to do.  Ah don't know what meh next step is," were the hopeless words Jacqueline had uttered during an interview with this newspaper shortly after her husband was killed.
At the time the family lived under very distressing circumstances in a one room shack at Non Pariel, East Coast Demerara, which was located in an overgrown water-swamped yard.  The home had no electricity and the three older children then had to trek 30 minutes to school every day.
The family had moved from Berbice to the area in an effort to seek a better life but that never became a reality and when Ronald was killed the family knew life was going to be turned upside down.
The woman had indicated that she was sickly and could not work and therefore could not have paid the meagre rent for the home they had occupied and the landlord had already given them notice to move.
Jacqueline's mother said that eventually her daughter had to move from the Lot 58 Non Pariel home and she had sought refuge at a friend in Buxton.
"She couldn't pay the rent and she really had nowhere to go so she moved in with the friend and it is there she was living when she died," the woman said.
The mother and grandmother said she would never forget the day she got a call that her daughter had to be taken to hospital. She did not get to speak to her because by the time she travelled the woman had passed away.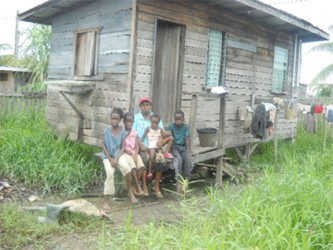 "I don't know how really she dead, they say something about her brains puncture or something but I know she just tek on the husband dead and she dead too," Whyte said.
Whyte revealed that she and her son-in-law were not on good terms when he died and this had been the catalyst for them moving from Berbice to East Coast.  The mother said she had given her daughter a piece of land at No. 50 Village behind her home and the couple had built a home where they lived.
"But then the husband put up the house for sale and they go away and he tell she and my grandchildren not to speak to me," the grandmother said.
But she said when Cato died she immediately opened her home to her daughter and grandchildren but she had refused to return.
"She tell me she not coming back to Berbice and maybe she was ashamed but I wanted them to come because I live in my home," Whyte said.
"Even all her sisters and brothers and other family tell she to come back," the woman recalled.
When her daughter died she knew she had no option but to take her grandchildren who were without a mother and a father.  It is not an easy road for the pensioner but she said she manages with her pension, public assistance and her other children chip in with some support.  One of her daughters lives with her and as such assists with the day-to-day care of the children – the oldest now being 14.
"All of them go to school, the two big ones are in secondary school," the grandmother said with pride.
Asked how the children had adapted to life without their parents, Whyte said her grandchildren seem happy and they ensure that they are taken care of and while they must miss their parents they are comfortable.
Even though she is of advanced age Whyte does not think about when she is no more as for her living for today is important and she will do her best.  Should she unfortunately go before any of the children become adult, Whyte is confident that with the help of God, they would be taken care of.
She remembers her daughter Jacqueline as "a very nice person" who she was very close to until her husband moved the family.  The mother remembers that the birthing process for Jacqueline had been very difficult.
"She was born foot first and one of her hands break and she stay in the hospital a little while. But you know they say babies who born foot first are very special," Whyte reasoned.
Jacqueline may have been special indeed but in the end, she died of grief and poverty stricken, seeking shelter at a friend.
It is a life that her mother does not want to be repeated for her grandchildren and once Whyte has her way, the five children will receive a sound education so that they can grow up to be independent.
Around the Web