President Donald Ramotar today praised the contribution of the late Reepu Daman Persaud to the country and the ruling party.
"The passing of Pandit Reepu Daman Persaud, comrade, friend, father, brother, advisor to thousands of people, was a  big surprise. Although we knew that he was not enjoying the best of health for some time now, it's still sudden ", GINA reported the President as saying.
The President said that Persaud lived a full life, and contributed tremendously to many of the freedoms that Guyanese enjoy today. It "must be recalled that until his death that he was the longest serving member in the leadership of our party having served the general council from 1958 continuously until the time of his passing."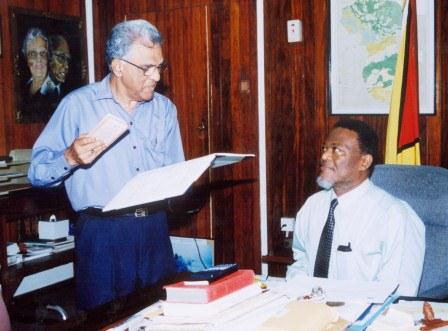 GINA said that Persaud was described as  one of the best parliamentarians the country has ever produced. He also was a fighter and defender of his religion and culture and the difficult days of the undemocratic rule of the PNC.
Persaud also defended religious freedom and fought strenuously to defend the independence of religion in society, President Ramotar said. He added that he will also be remembered for his fiery speeches in and out of Parliament.
"A man of real depth, a person who spoke very often without any prepared speech. I don't know, I can't remember ever seeing him with a prepared speech, but he was just a tremendous and great martyr. He made many important points, turning points for the struggle for independence and the struggle for democracy in our society. We in the PPP  will surely miss him. We have lost a tremendous comrade, a man who has done so much for our country and for our party," Ramotar stated.
"On behalf of myself and family, on behalf of the PPP, I express deepest sympathy to the Dharmic Sabha leadership and membership, to the family of Pandit Reepu Daman Persaud, I want to extend my deepest sympathy, just to say that I think all of us can be consoled by the fact that he lived his full life, a very eventful life. He had rubbed shoulders with the top leaders of our society."
GINA noted that Persaud served as Minister of Agriculture and Parliamentary Affairs until resigning from active politics about seven years ago due to poor health after being diagnosed with Parkinson's disease.
It said that he continued to be a member of the Central Committee of the PPP, a position he held for more than 50 years.
Around the Web