Pandit Reepu Daman Persaud passed away this morning. He was 77.
Persaud was the founder of the Guyana Hindu Dharmic Sabha and a longstanding stalwart of the People's Progressive Party.
After the PPP/C won office in 1992 he served as Minister of Agriculture and later as Minister of Parliamentary Affairs. At the time of his death he was also an advisor to President Donald Ramotar.
He served for over 50 years as a Member of Parliament and was at one time considered as a potential successor of PPP/C Leader Dr Cheddi Jagan. He had been in declining health in recent years. Stabroek News was told that Persaud passed away at 12.30 am today at the Georgetown Hospital. He had complained on Saturday night of feeling unwell and was experiencing pains. He was first taken to the St Joseph Mercy Hospital and then to the Georgetown Hospital.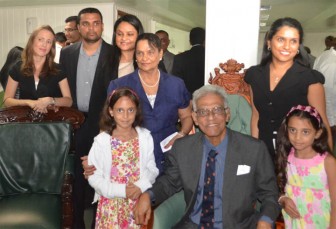 Persaud, a charismatic speaker in his heyday,  had a wide following in the local Hindu community and expanded the reach of the Dharmic Sabha countrywide through the setting up of Praants. In the last 20 years or so he had been widely credited as being the prime force behind the annual Deepavali motorcades which attract large audiences each year and the Sabha's Dharmic Sanskritik Kendra in Prashad Nagar. He participated in Phagwah celebrations last month.
He served as a Member of Parliament from 1964 to 2006. On his 75th birthday, the PPP had this to say about him:
"As a Member of Parliament from 1964 to 2006 Cde. Reepu served the Guyanese people with distinction. In the opposition benches he had to contend with many leading legal luminaries. He held his own and kept the struggle for democracy in focus. He was also the Party's spokesman for agriculture and again took to task many of the PNC regime's Agriculture Ministers.
"From 1992 to 2006 he was the leader of the House. Again he served with distinction, as he did in his ministerial portfolios.
"Cde. Reepu Daman Persaud is also the leading Hindu Pandit in Guyana. This is a title he earned".
On his 76th birthday, President Ramotar had this to say about Persaud and the Dharmic Sabha:
"On behalf of the Government, members of the People's Progressive Party/Civic and myself, I wish you a happy birthday… I also congratulate your family for keeping you strong.
"Pandit Persaud and a few others with him, at that crucial time in our country, stood up and was counted as one of the persons who would dedicate their energies to chart the course for a brighter Guyana…this also lead to the formation of the Dharmic Sabha organisation that has served not only Hindus of the country, but to protect and preserve the rich culture that our ancestors brought here, when they came from India…this organisation has now become part of our society and its history is part of the history of this country".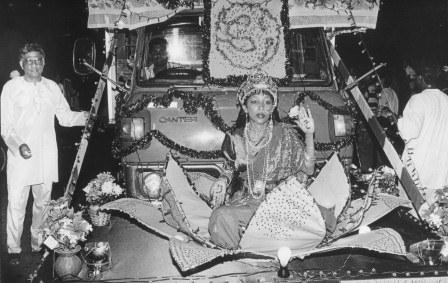 On that occasion,  Ramotar charged the Sabha's members to record its history, urging them to "start taping Pandit Persaud, his histories, his experiences along with those of others who worked closely with him to carry out the kind of work that is being done today."
On July 12, 2012, Parliament by way of motion honoured Persaud who was present for the occasion.
Moving the motion, Minister of Home Affairs Clement Rohee said that the Motion was a reflection of the spirit and honour that should be extended to a person who has dedicated his life to work both in and out of Parliament.
"The sentiments should be common and consensual in what we are about to bestow," said Rohee in the tribute to Persaud. He said that the former MP never shied away from any challenge thrown up against him. He hailed Persaud as a person who had simplicity and modesty, he said that Cheddi Jagan made an impact on the young Persaud in the early days of the PPP.
Rohee said that Persaud was elected to the National Assembly in 1965 at the age of 28. He said that Persaud took part in debates for 56 Bills, 33 Motions and 37 budget debates.
In addressing the Motion, APNU's Vice Chairman and MP Dr. Rupert Roopnaraine said that he remembered the participation of Persaud in the work leading up to the last Local Government Elections in 1994. He said that Reepu had the ability to bring harmony to a debate.
Valerie Garrido-Lowe of the Alliance For Change said that Reepu has indeed earned his place in Guyana's history. "Many new parliamentarians are yet to learn of all his contributions [in the National Assembly]," she said.
"Today we need as many Reepus as possible," she said.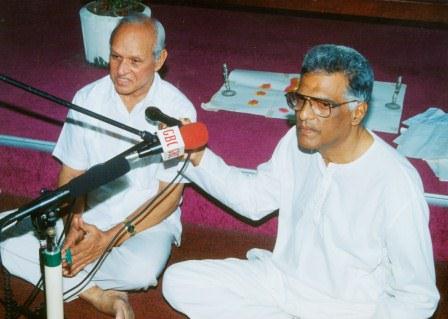 During his parliamentary life he served at various times as Chief Whip, Deputy Speaker, Chairman of the Public Accounts Committee, Chairman of the Constitution Reform Select Committee and Leader of the House.
In the PPP, he was one of the influential leaders and served for many years on its central and executive committees.
His daughter, Dr Vindhya Persaud has followed his footsteps and become a PPP/C Member of parliament. In an interview with Stabroek News last year she said from her father she has learnt that one must always conduct oneself in a disciplined manner and carry oneself with integrity. In addition, one should listen to people, come to compromises and work for the benefit of the people.
"So I would like to say having seen that he was able to straddle the world of religion and politics and do so very well, that also contributed in a big way for me wanting to do this."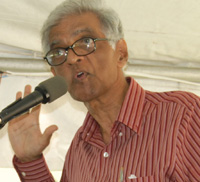 Around the Web