Although resource rich hinterland communities are contributing to the economic growth in Guyana, the government proposed $208.8B national budget has ignored them, AFC MP Valerie Garrido-Lowe told the National Assembly last Thursday.
"Communities do not enjoy basic necessities like electricity, potable water, a health post with qualified health personnel and adequate stocked drugs and telephone facilities," Garrido-Lowe said in her contribution to the budget debate, while noting that this description was not uncommon in regions One, Seven, Eight and Nine. "Nothing is normal about these hardships suffered by indigenous communities," she added.
She said that with the development of the mining sector, there was no reason that hinterland communities should remain without basic access to secondary education or healthcare. She said that secondary schools in the interior do not have science labs and their students cannot pursue education in the science fields unless they spent more years taking classes at a technical or vocational institution. However, no such schools for upgrading or training exist in regions One, Seven, Eight and Nine, she said.
According to her, while the mining industry is growing, indigenous people are not seeing the results and have limited earning opportunities.
She said "only a trickle of the wealth is reflected in the hinterlands," while noting that small scale miners introduce commerce to communities and have generally been mining in areas for years prior to the influx of large scale mining operations.
Garrido-Lowe reminded that "the Amerindian Act makes provision for the Guyana Geology and Mines Commission to transfer 20% of mining royalties to the fund designated by the minister for the benefit of Amerindian villages and she questioned the size of the fund and where the money is going if it is in operation. "The indigenous population of Guyana would also like to know when actually this fund was established and how much money is in this fund? If money was spent from this fund, what was it spent on? We need public accountability for these monies," she said.
Hinterland development and indigenous peoples' issues are synonymous, Garrido-Lowe also stated, and as a result she proposed that instead of an Amerindian Affairs Ministry, there needs to be a more inclusive government ministry that would prioritise the development of both, a Ministry of Hinterland and Indigenous Affairs.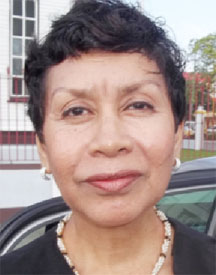 Meanwhile, APNU MP Dawn Hastings also called for the administration to do more for hinterland communities when she spoke in the House on Thursday.
Hastings said that as she examined some of the measures that the budget contains, she failed to see what measures were contained therein for teachers, nurses and other workers in the hinterland. She explained that because many of them live in indigenous communities, for which there is communal title, they themselves have no individual title, thereby rendering them ineligible for financing from the commercial banking sector.
"I have known of incidents where persons travel to the city to transact such business and were turned down because of this situation," she said. "I am therefore asking the relevant ministries to implement and adopt policies to promote home ownership for such hardworking individuals serving in our hinterland," she added.
Hastings said too that the issue of Amerindian land rights is another of concern to her constituents. "Indigenous leadership and decision making at the national level is often constrained by government interference," she said. Hastings said that the National Toshaos Council is not independent and the Indigenous People's Commission, which she said is supposed to be an independent body, established "to look into [issues affecting the lives of indigenous people] has a lot more to do."
Hastings also told the House that she had also been mandated by the pupils of Kako Primary School to highlight the challenges that confront them on a daily basis, including the mining activity that has begun up the Kako River. "They are struggling along with their parents to keep the main source of drinking water – which is the Kako River – in its pristine state," she said. "The residents of Kako are eagerly waiting on the Minister of Amerindian Affairs and the Minister of Natural Resources and the Environment to quickly satisfy their request…Mr. Speaker, we must be sensitive to the cries of our indigenous people," she said.
The MP also requested that government employ a school welfare officer to be based at the Kamarang Education Office, to curb what she called the "accelerating pains" of teenage pregnancy and student illiteracy at the Primary Tops and Secondary Schools and singled out the Waramadong Secondary School in this regard.
She said that government is not telling the whole story when it comes to universal access to secondary education in the hinterland regions. "Yes they have access to a building but not secondary school education… these buildings are still without trained teachers. They are without home economics departments… no science lab equipment… textbooks continue to be a dire need in [hinterland] schools," Hastings said. "I was hoping to see monies being [allocated] to establish a science laboratory, home economics department, ICT labs, which the people of the Mazaruni have been requesting ever since I came into this Parliament in 2010," she added.
Hastings also questioned how the $26.5 billion allocated for education in the 2012 budget was spent in indigenous communities. "Did our children reap the value for money spent? One is left to wonder what will be done with the $28.7 billion allocated for this year. I must inform this Honourable House that the Jawalla Village Council, in recognition of their role as a partner in education, decided… to erect and construct a new nursery school building, [after making a request and thinking government would have built one]," she said, while asking that the government ensures now that this school is equipped with the necessary accoutrements. She said too that the school is yet to be supplied with electricity.
During her presentation, Hastings also said that government's rejection of Leader of the Opposition David Granger's proposals for a tripartite budget committee shows how much the administration is interested in cooperation with the opposition. She said that since the country is in a situation where the majority of seats in Parliament is being occupied by the opposition, government must involve this majority.
"But Mr. Speaker, this was not done… and now for you (government MPs)  to come in this august House and try to persuade me and my colleagues on this side of the House to accept and bless the budget as it stands is unacceptable," she declared.
Around the Web