Revered Hindu priest and former government minister Reepu Daman Persaud passed away yesterday morning at the age of 77 after decades building one of the largest religious organisations in the country and playing a leading role on the political stage.
He died at the Georgetown Public Hospital Corporation (GPHC) at around 12.30 am.
Persaud, the founder of the Guyana Hindu Dharmic Sabha and considered a leading authority on Hinduism, had been ailing for some time and his daughter Dr. Vindhya Persaud told Stabroek News that following some complaints she drove her father to the St. Joseph Mercy Hospital on Saturday night before he was subsequently transferred to the GPHC where he succumbed.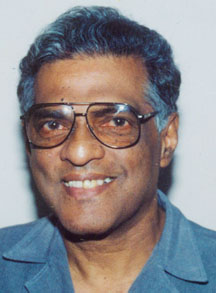 Persaud, a former Vice-President of Guyana, was a father of six. He was also a former Minister of Agricul-ture and Parliamentary Affairs.  He was awarded the Order of Roraima and at the time of his death was an advisor to President Donald Ramotar.
President Ramotar last evening hailed his contributions to the country and to the ruling PPP.
Dr Persaud told the media last evening  that "a week before all of this happened he developed a respiratory infection and we took him to the hospital and he was treated".  She noted that her father seemed to be recovering well.   "Nothing has prepared our family for this. It happened suddenly, he became a bit agitated and a bit febrile. We took him to the hospital and he still had a bit of the respiratory tract infection and then he started to lose some oxygen saturation", Dr Persaud stated.  She said  that her father was revived and he was placed on life support for a brief time at the Caribbean Heart Institute when "it all went downhill from there…it will be very difficult he has been our world our life."
The mood at the family's Prashad Nagar home when Stabroek News visited just after lunch yesterday, was sombre as scores of persons turned up to offer condolences and to reflect on the life of a man they all agreed made an indelible impact in many spheres.
Persaud was a stalwart in the People's Progressive Party (PPP) and President Ramotar in a brief message on the party's Facebook page expressed sadness at his death saying that he "was more than just a friend; he was a good teacher and an amazing orator."
"His passing will leave a void in the hearts of all Guyanese who knew him. Reep's memory and deeds in the fight for democracy and freedom in our land will always remain deep within my heart," President Ramotar said.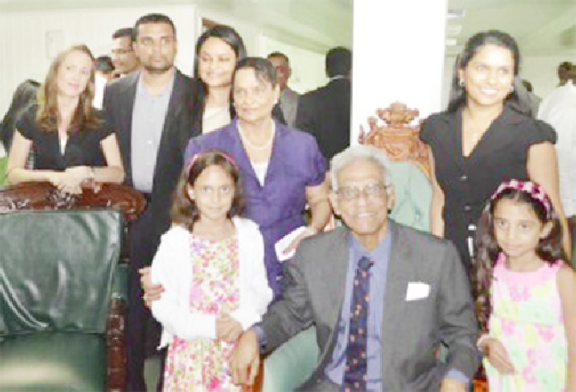 Well known doctor and former medical superintendent of the GPHC Dr. Madan Rambarran reflected that he knew the late pandit from childhood and while he has gone, his rich legacy will continue. "You can think of him as one of the most important persons in the founding of this modern Guyana. He is like a national hero, he is among the many founding fathers we have had as we moved towards democracy and also moved towards establishing a country with a multiethnic [basis]," Dr. Rambarran said.
He said while the late pandit cannot be replaced, he has made so many contributions that his legacy will live on with the principles of integrity and a spirit of compromise and willingness to listen to the other point of view among others. Dr. Rambarran said that he had a "father-son" relationship with Persaud as he was his 'cha cha.' He recalled that the late pandit had a great love for children and he always found time for them and was very patient.
"I have learnt a lot of the Hindu religion itself, the challenges and issues around its establishment or its growth in Guyana in the colonial period so I have learnt he has advanced the religion in Guyana," Dr. Rambarran said adding that many of his own ideas came from his interaction with his late hero.
Chandra Gajraj, general secretary of the Sabha, described the death as a huge loss to the organization as Persaud founded it 39 years ago and worked towards building it and provided leadership. "We should not think in terms of we are going to replace that person, he was who he was but he has set the groundwork and the tone for that organization to continue to grow in strength," Gajraj added.
Meanwhile, Ananda Latchman, chairperson for the youth group of the Sabha, said she had known  Pandit Persaud for her entire life and for her he has played a pivotal role in nurturing the Guyanese community at large in terms of politics and Hinduism.
"He has always been a part of our culture, our day-to-day activity and everything. Pandit will be greatly missed by his peers, his friends , his family and the people who looked up to him and consider him more than just a pandit …but consider him a father figure and somebody you can always come and talk to about anything," she reflected.
In tears, Latchman said Persaud was very knowledgeable about Guyana and Guyanese history and inasmuch as he was ailing in recent years, she said that his mind was very strong and at the click of a finger, he could give any information about the political history of the country and the PPP/C  among others. "He was very much a part of Guyana's culture, in keeping Hinduism alive, he was part of molding Guyana to what it is now as part of his political career and his political background," she said.
Career
Persaud began his political career in the early 1950's when he joined the PPP. He was campaign manager for the party's candidates in both the 1957 and 1961 general elections. He was elected to the legislature in December 1964 and was a member of the Public Accounts Committee of Parliament from 1969 and served as its chairman from 1986-1992. From 1976-1985, Persaud also served as the PPP's Chief Whip in the National Assembly.
He was the Deputy Speaker of the National Assembly from 1986-1992 and held key positions in many parliamentary committees such as the Committee of Selection. He was a key party negotiator in the now defunct Patriotic Coalition for Democracy and in the Inter-Party Parliamentary Commit-tee. He was awarded the country's second highest National Honour, the Order of Roraima in 1996 in recognition of his long and outstanding service as a parliamentarian and for his involvement in the struggle for free and fair elections and the restoration of democracy to Guyana.
After the PPP/C won office in 1992, Persaud served as Minister of Agriculture and later as Minister of Parliamentary Affairs. He served for over 50 years as a Member of Parliament, from 1964 to 2006, and was at one time considered as a potential successor of PPP/C leader Dr. Cheddi Jagan. Following Jagan's death, he was appointed Second Vice-President of Guyana.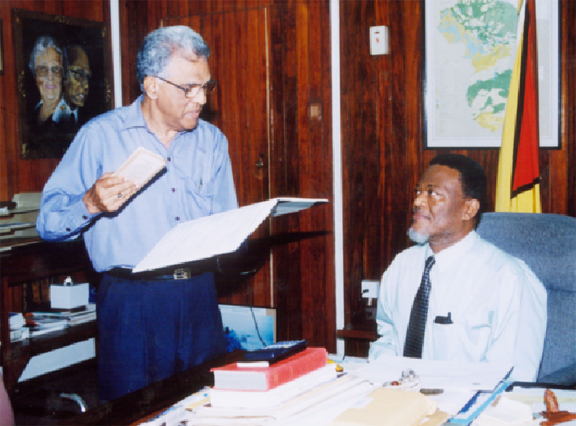 Persaud, a charismatic speaker in his heyday, had a wide following in the local Hindu community and expanded the reach of the Dharmic Sabha countrywide through the setting up of Praants. In the last 20 years or so he had been widely credited as being the prime force behind the annual Deepavali motorcades which attract large audiences each year and the Sabha's Dharmic Sanskritik Kendra in Prashad Nagar. He participated in Phagwah celebrations last month.
His daughter, Dr Persaud, also a  Member of Parliament told Stabroek News last evening her father would be missed by all the people who he touched throughout his life. She said "he was not a man who was divisive and was not a man who approached anything in an abrasive manner or an arrogant manner he always looked for a solution and a peaceful solution and I think that is his greatest legacy."
Pandit Persaud's family opened their home to hundreds of Guyanese last evening wishing to pay their respects. The Dharmic Sabha was simultaneously hosting wakes across the country in remembrance as were Chapters throughout the Diaspora. Dr Persaud said that the family was receiving an outpouring of support and love and that the family was truly grateful because Pandit Persaud "was a person who didn't limit his activities to one area he travelled the length and breadth of the country and worked with people of every class, every background".
She stated that her father was a unifying figure because of his position as a religious and political public figure. Dr Persaud stated that while her father suffered from Parkinson's disease for a number of years "his brain was very sharp and he had an institutional memory…and that was intact all the way to the end."
The Persaud family is awaiting the arrival of the Pandit's son at which point they will decide when his last rites will be. The Persaud family will continue to host wakes every night until the funeral.
President Ramotar yesterday praised his contributions.
"The passing of Pandit Reepu Daman Persaud, comrade, friend, father, brother, advisor to thousands of people, was a  big surprise. Although we knew that he was not enjoying the best of health for some time now, it's still sudden ", GINA reported the President as saying.
The President said that Persaud lived a full life, and contributed tremendously to many of the freedoms that Guyanese enjoy today. It "must be recalled that until his death that he was the longest serving member in the leadership of our party having served the general council from 1958 continuously until the time of his passing."
GINA said that Persaud was described as  one of the best parliamentarians the country has ever produced. He also was a fighter and defender of his religion and culture and the difficult days of the undemocratic rule of the PNC.
Persaud also defended religious freedom and fought strenuously to defend the independence of religion in society, President Ramotar said. He added that he will also be remembered for his fiery speeches in and out of Parliament.
"A man of real depth, a person who spoke very often without any prepared speech. I don't know, I can't remember ever seeing him with a prepared speech, but he was just a tremendous and great martyr. He made many important points, turning points for the struggle for independence and the struggle for democracy in our society. We in the PPP  will surely miss him. We have lost a tremendous comrade, a man who has done so much for our country and for our party," Ramotar stated.
"On behalf of myself and family, on behalf of the PPP, I express deepest sympathy to the Dharmic Sabha leadership and membership, to the family of Pandit Reepu Daman Persaud, I want to extend my deepest sympathy, just to say that I think all of us can be consoled by the fact that he lived his full life, a very eventful life. He had rubbed shoulders with the top leaders of our society."
Parliament motion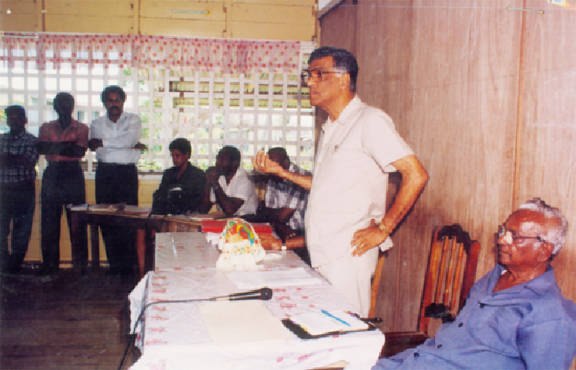 On July 12, 2012, Parliament by way of motion honoured Persaud who was present for the occasion.
Moving the motion, Minister of Home Affairs Clement Rohee said that the Motion was a reflection of the spirit and honour that should be extended to a person who has dedicated his life to work both in and out of Parliament.
"The sentiments should be common and consensual in what we are about to bestow," said Rohee in the tribute to Persaud. He said that the former MP never shied away from any challenge thrown up against him. He hailed Persaud as a person who had simplicity and modesty, he said that Cheddi Jagan made an impact on the young Persaud in the early days of the PPP.
Rohee said that Persaud was elected to the National Assembly in 1965 at the age of 28. He said that Persaud took part in debates for 56 Bills, 33 Motions and 37 budget debates.
In addressing the Motion, APNU's Vice Chairman and MP Dr. Rupert Roopnaraine said that he remembered the participation of Persaud in the work leading up to the last Local Government Elections in 1994. He said that Reepu had the ability to bring harmony to a debate.
Valerie Garrido-Lowe of the Alliance For Change said that Reepu has indeed earned his place in Guyana's history. "Many new parliamentarians are yet to learn of all his contributions [in the National Assembly]," she said.
"Today we need as many Reepus as possible," she said.
Around the Web