The closed-circuit television (CCTV) cameras installed around the city are being used by police, according to acting Commissioner Leroy Brumell but former Top Cop Winston Felix has described them as an utter waste of money.
"I think that it (the camera system) is still operating. Where the cameras are, as long as there are robberies in that area, we try to use them," Brumell said in a recent interview with Stabroek News.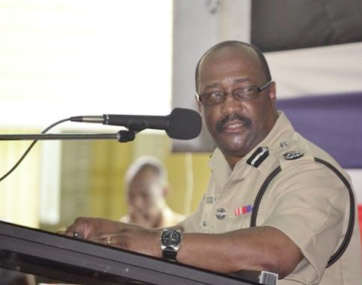 Asked if he knew of an instance where the footage was useful, he cited one case where two bandits, including one visibly holding a gun, were captured. The men were on a motorcycle at the time. When asked if the footage was clear, he pointed to the same case.
"These cameras are important to solving crime, as long as you see something. It is not here alone it is being used, it is used in the Caribbean," said Brumell.
Since the installation of the cameras was completed, the government has remained tight-lipped about what is being done with the footage and who is responsible for monitoring it and what measures are in place, if any, to store it.
Retired police commissioner and now APNU MP Winston Felix, during his budget debate presentation last week, said that the cameras are not serving their intended purpose. He said that the cameras, which have been placed throughout Georgetown in the aim of aiding police in crime prevention, have been an utter waste of government spending, while noting that millions of dollars were spent to install them.
Felix told the National Assembly that the cameras, located on Homestretch Avenue, "serve no purpose, they have not detected no crime there" and he noted that the location where the cameras were set up originally was questionable. Felix said that the "ill-advised project" needed more research but that the Ministry of Home Affairs was not tactful in its organisation of policy.
"Solving crime comes from training and it comes from experience. You don't train a detective today and get him tomorrow to be the best detective. He has to be nurtured," Felix stated, while adding that the ministry's approach has been to find quick fixes which have proven to be costly and flawed, such as the CCTV cameras.
Recently, Home Affairs Minister Clement Rohee urged the police to make more use of the footage captured by the cameras. "More use must be made of the images derived from the cameras that have been installed around the city as a tool in identifying suspects who have committed robberies within the view of the cameras," Rohee told ranks attending the opening of the three-day Police Officers' Annual Conference last month. When pressed by this newspaper last November about whether the images were being utilised by the police force, he had said "no, not as far as I am aware." He went on to explain that the use of the footage had to be cleared by a board that has been established to overlook the functioning of the Central Intelligence Unit. The identity of the persons on the "board" is still unknown.
Gun crimes worrying
Meanwhile, Brumell acknowledged that the regular occurrence of gun crimes across the country is troubling. "This thing is a bother to us where people just going and opening fire on people just like that," he said.
Asked what the trend of gun possession reflects, Brumell said "We are looking at (a situation where) guns are being rented. There is a feel of people renting." He explained that recently a man was found with a gun but it had no rounds inside. "We trying to get deep down into this because we need to go down to the bottom of this thing," he added.
In addition to the gun possession, he said that there are many cases where persons were shot execution-style but those cases are still unsolved.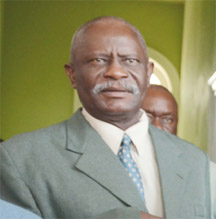 Among the killings that this newspaper highlighted to the commissioner were that of Ricardo Rodrigues—a close associate of convicted drug lord Roger Khan—and his body guard Marlon Osborne called 'Trini.' According to Brumell, the investigations into these killings are still ongoing. "These cases are still open," he assured.
It was suggested that the killing of the duo, which occurred a week apart, might have been related and may have been sparked by a huge arms bust at Lethem, in which Rodrigues had been identified as a suspect. Police had issued a wanted bulletin for him and he turned himself over to lawmen but was subsequently released. Within days he was riddled with bullets as he sat with friends at the Guyana Motor Racing and Sports Club located on Albert Street.
Sources close to the case told this newspaper recently that the investigations have apparently ended as there have been no arrests or anything to indicate that investigators are still working. One source pointed out that with so much time gone, police have a nearly zero chance of finding clues that could crack the case.
Another source said that it could be a case that investigators have some ideas about the motive and possibly who committed the crimes but are afraid to dig deeper because of who the perpetrators are. Like most execution-style killings, the source said, the deaths of Rodrigues and Osborne will remain unsolved.
Reviewing footage from CCTV cameras was mentioned in both of these investigations but it is unclear if this was ever done.
Around the Web