When students and teachers from the Zeeburg Secondary and their innovative shrimp dryer, which won the Sagicor Visionaries Challenge national final, leave for the regional competition in Barbados tomorrow, they will have an entire village behind them.
The team from the West Coast Demerara school, which had to devise a sustainable and innovative solution to a challenge facing their school/community, proposed the construction of a shrimp processor to reduce the adverse environmental effects of shrimp drying being done on the seawall behind the school building.
Stabroek News visited the school yesterday and spoke with the students and teachers, who are confident ahead of the finals, which will be held on April 12 and 13 at the Sherbourne Conference Centre.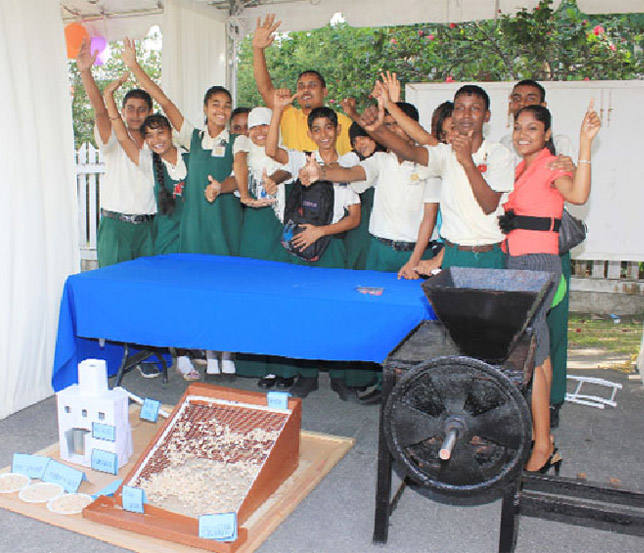 Vidya Ram said that they are all set for the finals. Although the initial processor was too big, Ram explained that with help from the BACIF Company, they managed to build a smaller one, which meets Barbados import requirements.
Also, initially, only the agriculture teacher, Dhanraj Rambarose and team leader Lakshman Ramdat, were scheduled to attend the finals. But Ram said the school raised funds so that she and a student, Allia Razack, can assist in the presentation at the finals.
Romeeza Baksh, Abidah Ali, Fareeza Ahmad, Salika Wood, Chanderpaul Jaimangal, Mark Rupram, Nazim Baksh, Neranjan Ramdass, and Nataziea Bumbury, the remaining members of the student team, although saddened that they are not going to be present, were very confident that the project would win the finals. They also made a point of specially thanking their mentor Dr. Dawn Lewis as well as Dennis Heeralall, who contributed significantly to the project.
The community, including the fishermen, are rallying behind them since their project will solve an old-age problem that has been plaguing Zeeburg for quite a while. The traditional method of shrimp drying produced an unpleasant odour and an infestation of flies, while the best food safety practices were not observed.
The shrimp processer, which is expected to reduce the time taken to process the shrimp, would be solar powered while in the rainy season a heat pump will be used. In addition, alternative energy sources can be harvested from sources like coconut shells, sawdust, and wind energy.
With the seawall being so close to the school, the school population was often affected by the stench. The team has proposed the relocation of the shrimp drying site, which will be 200 meters away from the school but will remain in close proximity to the seawall.
The proposal includes the construction of a wharf on the seawall, where cleaning will be done. It is expected that the construction of the wharf will be useful in providing a healthy and easy way of cleaning.
Around the Web