AFC Chairman Nigel Hughes returned home last weekend after recently undergoing angioplasty and though still in recovery he has already committed himself to pursuing a 10-point "2020 Plan" for Guyana's education system and its youth.
Hughes told Stabroek News that his stay in Trinidad and Tobago, where he underwent the heart procedure, gave him the time to reflect. He said he would continue his political activism but will now also direct his time and passion into implementing a plan for the development of the country's youth, with the year 2020 as the timeline to meet planned objectives.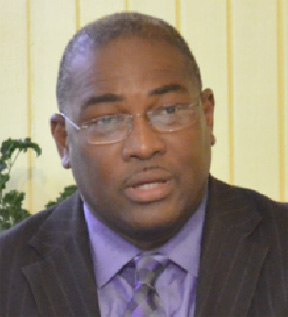 Among other things, the plan proposes a programme be implemented for all secondary school graduates to be bilingual by 2020; that primary school students be equipped to write simple computer programmes and create computer applications; and funding and strengthening engineering and mineral resources faculties at the University of Guyana so it is second to none in the Central America.
After suffering a heart attack while in the Rupununi last month, Hughes was medivaced to the city and admitted to the Caribbean Heart Institute. He was hospitalised for three days before he was flown to Trinidad for the angioplasty.
He said that he was eager to get back to work but realises the importance of adhering to the directions of his doctors, who have said that he will be able to do so in another two weeks. He added that he was recovering well and adjusting to his healthy lifestyle change, which includes daily exercise and a strict no-salt and low fat diet.
Hughes remained grateful to the Guyanese people and especially the people of Aishalton, where members of the community left their homes in the wee hours of the morning after he took ill and ensured he was brought out from the Marudi Mountains.
Further, he  recalled that it was while he was on his way to Marudi that children from the community bemoaned their lack of access to information technology and most of the young ones said they were forgotten when it came to technological development. "The children complained that they did not have access to computers and the internet and were at a severe disadvantage in information technology as compared to city youths… my heart really went out to their pleas," he said.
This situation coupled with an old passion to push education reform from an Information Technology perspective was pivotal in him crafting his 2020 plan.
"I am convinced that we need a new beginning, a new vision for the future and new goals. We all pay lip service to education as the key to the future without addressing the details. We seem to separate education from economic development. One is but a means to the other…this plan I have Guyana is achievable and will be remarkable," Hughes declared.
"I ll be working to get support across the country and [in] the Diaspora for building it, to make it happen. Amongst the things I want to do is start a small IT competition for kids in secondary schools and finding a way to have computers and internet access to hinterland children so that they won't feel disenfranchised," he added.
Hughes plans to have the competition run off in schools shortly in which students would be asked to create a programme to transform Guyana to the "Silicon Valley" of the Caribbean.
"We will have really attractive prizes… we will attempt to get computers and internet access for children in disadvantaged and remote communities, so that their skills in ITC are brought up to comparative levels with persons who live in the urban areas," he informed.
He said that the education curriculum needs to be structured in such a way that the child is taught to think critically instead of just challenging their powers of recall. Entrepreneurship should also be taught in schools, so that students can appreciate from an early age the importance of self-sufficiency and standing on their own two feet as they aim to be globally competitive, he added.
Around the Web