"Caribbean Airlines did their best to put on I think four additional flights, but we still did not have enough flights to bring persons back into Guyana" for Easter, Minister of Tourism Irfaan Ali made this pronouncement during a press conference held at Freedom House on Monday.
The tourism minister did praise the efforts of Guyana's recently-designated flag carrier for its consistency throughout the year. However CAL's lack of flights does pose a significant question to whether or not the carrier has the ability to fully satisfy the Guyanese market demands.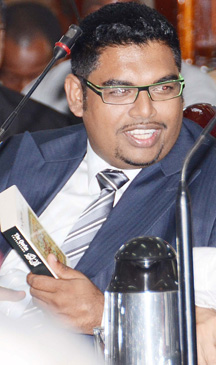 Caribbean Airlines is currently operating without competition on key routes and as a result will need to show that it is capable of addressing the entire burden, observers say. Cheddi Jagan International Airport, Timehri's facility, as it stands, managed the additional flights that came in over the Easter season which has left some questioning the need for the imminent US$150M airport expansion.
According to an aviation expert "there is no need for an eight gate airport that far out of central Georgetown, don't try and hang your hat too high". The aviation expert told Stabroek News that Ogle International Airport is for the business traveller a much more viable option "if the government wants to approach airlines they can extend the use of the Ogle international market while looking more closely at the Cheddi Jagan [expansion] feasibility."
The smaller of Guyana's two major airports has been making strides, Air Services Limited recently completed construction on its own fuel farm to stop the reliance on third party fuel providers.
Minister Ali did not press the issue of the airport expansion and instead focused on the number of ongoing talks the government has had with numerous regional and international airlines.
"There is a lot of interest, Virgin Airlines came last year we had many meetings with them…had meeting and discussions with Jet Blue, some initial contact with West Jet. We had some initial contact with Air Canada" he said, adding that a discussion on LIAT's future in Guyana was also being discussed.
He stated that Guyana needed to solidify airlift and that there was potential for Guyana to become a hub because of its geographic location and cultural make-up.  Ali said that the government has made contact with LAN Airlines, based in Chile and one of the major South American carriers, to discuss a possible partnership and business. Ali said that LAN "has a very import network," he continued that integrating the South American market with our market  was a necessary step if Guyana was to attract more flights "because the big carriers also want to know that they have  feeder traffic, that is they can bring traffic into Guyana that feeds off to the other markets."
The lack of feeder traffic was believed to be one of Delta's contentions with Guyana and resulted in the airline's pull-out which will be formalised in May. The airline said poor performance in the Guyana market was the reasoning behind the pull-out however both the Minister of Tourism and the Aviation Minister, Robeson Benn, have noted that Delta's flights to and from Guyana operated at between 85-89 percent capacity.
Ali said that "we know that right now they are looking at many markets and markets where they are operating at 90%. My view is that maybe some of these airlines that are merging are looking for the more short high end market where they have more business class".
Currently Guyana is a lengthy flight path for many major airlines and the CJIA does not operate as a hub airport with multiple flights departing with transit passengers. The tourism minister said that he hoped the government's pull to add further carriers to the CJIA roster would be successful in the near future. Suriname Airways has taken the opportunity in Delta's soon-to-be-absence to add an additional direct Guyana to Miami flights which will commence shortly.
Around the Web