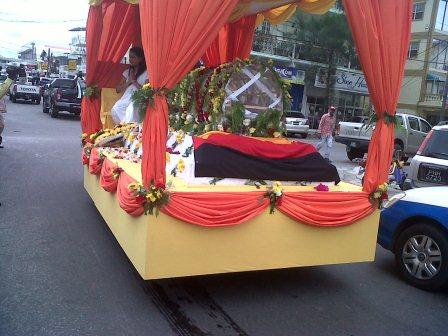 The funeral procession for Pandit Reepu Daman Persaud made a stop at Freedom House on Robb Street this morning where tributes were paid to him after which the procession made its way to the International Conference Centre, Liliendaal for the official ceremony and viewing of the body.
The doli bearing the body of Pandit Persaud stopped in front of Freedom House allowing those who were gathered there to get a glimpse of the remains. The flag of the People's Progressive Party Civic (PPP/C) was also draped over Persaud's doli.  There, the tribute was delivered by Minister of Home Affairs Clement Rohee.
Rohee told the large crowd, which included President Donald Ramotar and other members of his cabinet and the PPP/C, that the late Persaud contributed to the struggle and victory of the party and the people of the county.
Persaud was the founder of the Guyana Hindu Dharmic Sabha and a longstanding stalwart of the People's Progressive Party. Rohee stated that Pandit Reep, as he called him, became a household name and an icon of Hinduism in Guyana and that "he brought life and excitement to Hindu holidays that was never before witnessed in the country."
After the PPP/C won office in 1992 Persaud served as Minister of Agriculture and later as Minister of Parliamentary Affairs. During his time as the Minister of Agriculture, Rohee stated that he built the foundation for food security and encouraged farmers to grow crops. He also said that the best tribute they can pay to the late Persaud is to never stop the fight.
Persaud passed away on Sunday morning at the Georgetown Hospital after he complained of feeling unwell on Saturday night. He was 77.
After the funeral ceremony, Persaud's body will be created at the Good Hope crematorium.
The doli bearing the remains of the late Pandit Reepu Daman Persaud as the funeral procession passed through Robb Street this morning. His daughter Vindhya (left)  accompanied it.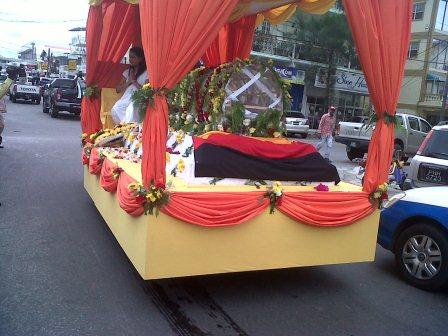 Around the Web