Guyana's junior and cadet racquet wielders placed fourth out of 10 teams at the just concluded 18th Caribbean Cadet and Junior championships held in the twin island republic of Trinidad and Tobago.
The Dominican Republic which won the Junior boys and girls and the Cadet boys team events, was the most outstanding country on show with Puerto Rico, which won the cadet girls team events placing second and hosts Trinidad and Tobago third.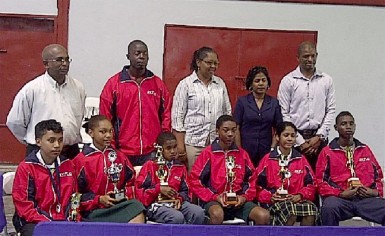 At a press briefing held yesterday at the National Gymnasium, Godfrey Munroe, president of the Guyana Table Tennis Association (GTTA), stated that he was very pleased with the team's performance.
The 16-member Guyana squad won seven bronze medals to finish overall fourth in the medal standings.
"I am very pleased with the overall performance of the teams. Even though we were only able to convene the team two weeks before the initial tournament and only participated in a few competitions, we did very well," he declared.
"To have our players competing and beating the players from the more seasoned teams show that we have the talent even though we didn't have the necessary time to prepare," Munroe added.
The GTTA boss said that there was still a lot of work to be done if Guyana is to climb the ladder of regional table tennis.
"Lots more work needs to be done but they have the potential and the ability. We have to work on the deficiencies and keep developing as we want to ensure we better our results as there is always room for improvement."
Questioned as to how the association intends to bridge the exposure and experience gap with regards to the more established nations, Munroe posited: "We need to find creative ways to bridge the gap. While trying to get players to go on overseas training camps is an option, there still has a lot of gaps to be filled with a structured environment as well as a permanent venue is needed."
Junior Sportswoman-of-the-Year and  three bronze medalist winner at the championships Chelsea Edghill said:"The tournament was a good experience and I will take a lot out of it as I really enjoyed going there and playing my tennis and sharing the experience with the team."
Coach Linden Johnson said that he was satisfied with the showing of the various teams.
"I am very satisfied with the team's showing. We have improved from last year to now and the plan is to continue to build on these results. We need to continue to keep the players together so we can continue to work with them to improve their game."
Tournament Results:
Team Competitions:
Junior Boys:
1 Dominican Republic
2 T&T (Arun Roopnarine, Aaron Wilson, Sarvesh Mungal, Andreus Pantin-Abraham)
3 Puerto Rico & Guyana
Junior Girls:
1 Dominican Republic
2 Puerto Rico
3 Guyana
4 T&T (Catherine Spicer, Brittany Joseph, Artienea Gregoire, Adefa James)
Cadet Boys:
1 Dominican Republic
2 Puerto Rico
3 T&T (Amresh Mungal, Shakeel Mitchell, Daniel Henriques, Joshua Maxwell) & Barbados
Cadet Girls:
1 Puerto Rico
2 Dominican Republic
3 T&T (Gyshan Latchman, Nalini Boodoo, Jasher De Gannes, Ray J Thomas)
Doubles:
Mixed Juniors:
1 Catherine Spicer/Arun Roopnarine (T&T)
2 Luis Echevarria/Ashley Diaz (P/Rico)
3 Stefan Corlette/Chelsea Edghill (Guyana) & Luis Enrique Serrano/Caroline Resto (P/Rico)
Mixed Cadets:
1 Yomar Gonzalez/Lineris Rivera (P/Rico)
2 Andres Betances/Cinthya Sanchez (Dom Republic)
3 Aaron Wilson/Brittany Joseph (T&T) & Evilio Lozano/Kircia Diaz (Dom Republic)
Junior Boys:
1.Luis Echevarria/Rehuel Rivera (P/Rico)
2. LuisEnrique Serrano/Luis Eduardo Serrano (P/Rico)
3. Aaron Wilson/Arun Roopnarine (T&T) & Stefan Corlette/David Duncan (Guyana)
Junior Girls:
1 Eva Britto/Karla Britto (Dom Republic)
2 Ashley Diaz/Caroline Resto (P/Rico)
3 Brittany Joseph/Catherine Spicer (T&T) & Chelsea Edghill/Akeicia Nedd (Guyana)
Cadet Boys:
1 Andres Betances/Evilio Lozano (Dom Republic)
2 Yomar Gonzalez/Andre Cullen (P/Rico)
3 Stephen Payne/Tyrese Knight (B'dos) & Yadiel Torres/George Perez (P/Rico)
Cadet Girls:
1 Kircia Diaz/Cinthya Sanchez (Dom Republic)
2 Lineris Rivers/Jamie Jaime (P/Rico)
3 Gyshan Latchman/Nalini Boodoo (T&T) & Jasher De Gannes/Monique Cooper (T&T)
Singles:
Junior Boys:
1 Isaac Villa (Dom Republic)
2 Luis Echevarria (Puerto Rico)
3 Jeferson Almanzar (Dom Republic) & Luis Eduardo Serrano (P/Rico)
Junior Girls:
1 Eva Britto (Dom Republic)
2 Ashley Diaz (P/Rico)
3 Catherine Spicer (T&T) & Chelsea Edghill (Guyana)
Cadet Boys:
1 Yomar Gonzalez (P/Rico)
2 Andre Betances (Dom Republic)
3 Aaron Wilson (T&T) & Shemar Britton (Guyana)
Cadet Girls:
1 Cinthya Sanchez (Dom Republic)
2 Lineris Rivera (P/Rico)
3 Brittany Joseph (T&T) & Kircia Diaz (Dom Republic)
Around the Web