A 25-year-old man was beaten to death by a group of men over an allegation of theft at a mining camp in Cuyuni/ Mazaruni on Wednesday.
Dead is John McPherson of Lot 28 Plum Park, Sophia who was a miner at Oko Backdam, Cuyuni. He was pronounced dead on arrival at the Bartica Public Hospital after being transported there from the camp.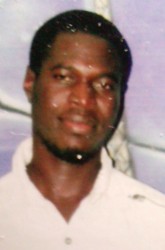 Initial reports from the police stated that McPherson and two other young men were allegedly beaten at the mining camp over the theft of a "mat"; an instrument used to collect gold in mining operations.
Police also said that three men have been arrested in connection with McPherson's murder and were in custody assisting with investigations.
Barbara James, McPherson's mother, said that at about 10.30 am on Wednesday while she was teaching, she received a call from her nephew who told her that McPherson was being beaten by a number of men.
"I called his boss right away but he said that he was in town and would make enquiries, get back on to me as soon as he got any information," James said.
James said her son's boss later returned the call notifying her that McPherson's hand was broken again.
The shaken mother said that about three months prior, McPherson had broken his wrist in an accident while operating an excavator.
James said she later received another phone call from another person working on the dredge who told her that her son had been taken to Bartica for medical treatment and she took a decision to go to Bartica.
Based on reports she received from that person, several men had arrived on a truck, tied McPherson's hands and feet and began to torture him, while applying salt to his body.
"John was my only son," James lamented. She said she was told that he was nowhere around when the 'mat' allegedly went missing. Someone else told her, she said, that the "mat is still there nothing ain't gone."
James said that when she got to the Bartica Hospital her son was dead and the rope which was used to tie him up, remained around his hands and feet.
The grieving mother said she last spoke to McPherson on Tuesday around 10.30 pm. He had left for the interior in February after spending the Christmas holiday home.
"I need justice for my son. He is not a thief! He went into the interior to take care of me.
He never get caught up in illegal things while there. So I do not know where the police get such information that he stole the mat," James lamented.
McPherson was described as a "network", who brought many people together, especially family.
"He was very loving and caring; words can't express who my son was. He always put people before himself," James said.
McPherson's death is the latest in a spate of killings of miners in the interior.
Around the Web