Pandit Reepu Daman Persaud was cremated yesterday after he was remembered as a humble man, who devoted his time and energy to the Hindu religion and politics for the betterment of all Guyanese.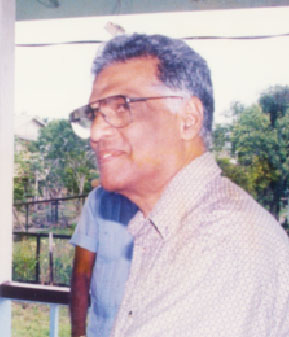 Hundreds congregated beneath tents on the lawns of the International Convention Centre, at Liliendaal to pay their last respect to Persaud during a three-hour-long ceremony.
Persaud, 77, died early Sunday morning. A former Member of Parliament (MP) and government minister, he had served the PPP for more than five decades and was instrumental in the formation and growth of the Guyana Hindu Dharmic Sabha.
Ministers of the government, members of the opposition, the Speaker of the National Assembly and members of the diplomatic community were among those present at the funeral service. There was an orderly viewing before the body was placed on a doli and transported to the Good Hope crematorium, for cremation sometime after 3pm.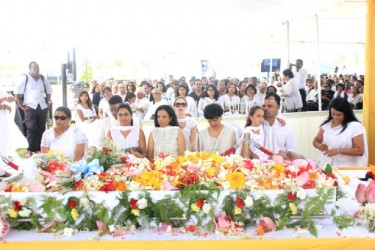 Dr. Vindhya Persaud who followed her father's footsteps by entering politics, described him as a very religious man who used Hindu teachings in every aspect of his life.
She said he considered the people to be his family and gave selfless service to humanity. "It is a loss we will never recover from," she noted, while adding that her father's legacy will live on.
Her brother, Vishok Persaud, during an emotional address, shared memories of his father's family life with those gathered.
He shared the fond memories he and his siblings had with their father while growing up while noting that Dr. Persaud had their father's personality.
He described him as a "loving and caring father and a fun person to be around," while adding that people depended on him to solve their problems and as a result he had to make "great family sacrifices."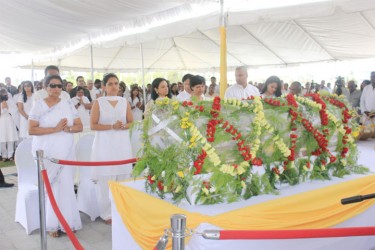 The younger Persaud said that his father just wanted to live his life with religion and politics. With the political activism of his sister, he noted that he has departed "knowing that a part of his legacy will go one."
He added that they are all taking comfort in knowing that he is in a better place.
President Donald Ramotar noted that Persaud "had no personal enemies" and called it a great achievement for a man who "took a stand on one side." Persaud, he said, showed that he could make a contribution to the country, not only in the cultural and religious fields but also in politics and other areas.
Ramotar noted that Persaud was born on the Diamond Sugar Estate during a difficult period in 1936, when there were issues plaguing parts of the world such as famine and uprisings. Persaud was 14 years old when the PPP was formed and in 1958, at the age of 22, he became a member of the party's General Council. "It shows you the calibre of the person we are talking about. He has not been in the party for 50 years. He has been in the leadership of the party for more than 50 years," he said to applause.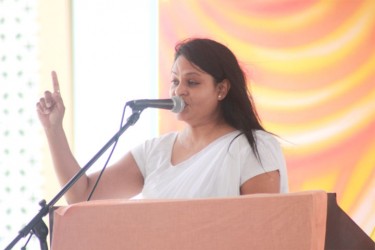 He added that in the 1957 elections, Persaud was highly recognised and in the 1961 elections he was a strong contender for the East Bank constituency and in 1964 he became an MP. "Parliament was the place that he loved," he observed, while adding that Persaud was a "showman" who never read from a prepared speech.
Ramotar noted also that "Reep" was criticised over and over, particularly during the period when anti-communism was a big aspect of politics and noted that persons questioned how Persaud being a "man of God" could be associated with late president Cheddi Jagan. However, he described Persaud as one of Jagan's confidantes.
'Expectations'
Dr. Roger Luncheon, Head of the Presidential Secretariat and a PPP stalwart, spoke on behalf of the party and noted that that the grief comes with an opportunity for all to reflect               on Persaud's life and the   that he made.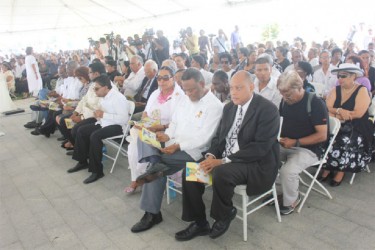 Luncheon suggested that Persaud "has worked his way into the history of Guyana" and declared that he will be remembered for both his humility and for his dedicated service. He was the head of a major religious organisation, a long serving member of the PPP and a parliamentarian with the longest service in the history of the legislature, he noted.
"Reep over the 77 years and in the mature years of his leadership has lived up to our expectations," he said. "His humility for me transcends all that he has done."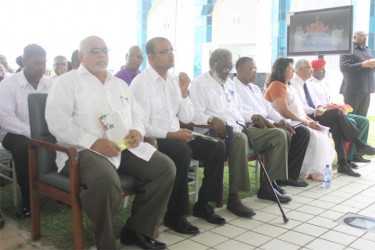 According to Luncheon, one does not need pools or testimonies to highlight Persaud's achievements to the Guyanese society as his track record is accessible to all. He described him as a "quiet advocate, champion of justice, peace loving, a man of infinite patience" as well as a man who reflected deeply and brought to bear profound insight on the issues of the day. 'This is the Reep we want to remember," he emphasised.
All must remember Persaud's decades of committed service, which was of a high exemplary nature, he said. He recalled that after the 1992 elections results, Persaud, the then Agriculture Minister was on the East Coast in the middle of the night to deal with the first of many sea defence breaches. "He was an icon in the Guyanese society… We would miss you but you have done your job… Go in peace. You have indeed earned eternal rest," he added.
'A privilege'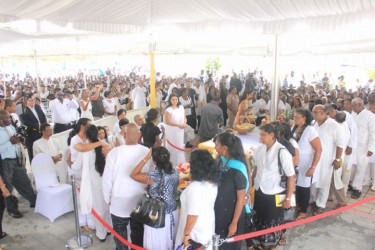 Former PNCR leader Robert Corbin shared fond memories of the friendship that he shared with Persaud, whom he said would not have wanted tears to be shed over his death but instead would have wanted his contributions to be recognised.
Persaud, he noted, devoted all his time and energy towards his party, the people of Guyana and humanity and gave of his best to Guyana with "joy and a deep understanding of the times."
He described him as an "outstanding politician and a dedicated pandit," who had a multifaceted personality and was tolerant and respectful of different opinions. Persaud's early life on a sugar plantation is what may have moulded his personality, he suggested.
Going a bit into the friendship that they shared, Corbin said it spanned his own entire political life. He recalled that Persaud retired from Parliament five years before he too took that step. "We had a healthy, cordial, respectful relationship," he said, and added that this existed despite them holding separate political views and being on opposite sides of the House.
"I have been associated with him for over 50 years and I have lasting memories," he further said, while noting that the last time they met was when they were being recognised by the National Assembly for their long and dedicated service as MPs. Thereafter, they kept contact with each other almost on a daily basis. "It was a privilege to have known him," he said.
'Dignified hand'
Former president Bharrat Jagdeo called Persaud one of two persons he was fortunate to have met in his life. The other, he said, was the late former president Cheddi Jagan.
Persaud made an important difference in the lives of all, he said, while adding that he would miss their many talks and times together as well as "his dignified hand in the face of turbulence. I will miss the light in his eyes… we will all miss his showing of knowledge… civility… for the courage that he displayed in personal and societal life."
Jagdeo also singled out one of the daily newspapers which he did not name, which he said gave a "wonderful tribute" to Persaud following his death but had two weeks earlier "said some of the nastiest things about him that were untrue." According to Jagdeo, he saw first-hand how troubled he was about these "nasty things" while pointing out that he had seen the love from Persaud's family sustaining him throughout his illness.
Several others, including members of the religious community and relatives, also gave tributes.
Reverend Kwame Gilbert, in a tribute, said that Persaud bridged the gap between religion and politics. While saluting Persaud's life, Gilbert said that he had the image of a great leader who has left behind a great legacy. Sonia Geer, a Grade Five student of the Dharmic Rama Krishna School, a product of the Guyana Hindu Dharmic Sabha, said that Persaud always showed a keen interest in the school's welfare, resulting in the Reepu Daman Scholarship committee being formed. Geer, dressed in her school uniform, noted that six scholarships were awarded. She said that she benefited from one of the awards which are given out annually on Persaud's birthday (January 16) and he would hand them out personally each time, along with an ice cream treat. "I promise to continue to make him proud of me," she added.
During the funeral service there was a presentation by Chandra Gajraj, members of the Guyana Hindu Dharmic Sabha; a floral tribute (Pushpanjali) and several segments of Bhajans.
Around the Web