Richard Allen says he intends to work closely with Renitta Williams, who has replaced him as the main opposition APNU's Region One parliamentary representative.
"I know her ability and I am confident that she can do this," Allen told Stabroek News. He stressed that he plans to work with Williams to ensure that Region One is adequately represented in Parliament, while noting that a timetable for his return to the National Assembly is uncertain.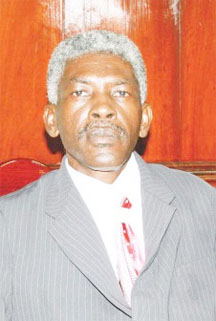 Williams, a resident of Moruca, was sworn-in on Wednesday, replacing Allen, who had to be hospitalised after collapsed during the budget debate.
He said that although he has exited the National Assembly, he will be keeping in close contact with his fellow opposition parliamentarians and Williams.
Asked what he expects his relationship with Williams to be like, Allen said that they have always had a good working relationship. "We will continue to have that good working relationship," he said, adding that whatever advice he can give to the young parliamentarian, he will.
He pointed out that the other members of parliament should be "briefing her along the way."
He said that it is not all about him but rather the "constituency; the people" and about ensuring that they receive what is expected.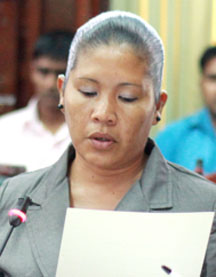 According to Allen, while he is out of hospital and is currently resting, "I still have the Guyanese at heart. Whatever decision I have taken is in the interest of Guyana."
Allen is uncertain as to how long he will be out of Parliament and this would largely depend on what his doctor says when he goes for a check-up in two weeks' time. He said that at present, he is working hard with his doctor's help to ensure "I don't go back down that same road."
Explaining what led to him collapsing, he said he knew he had the flu and had purchased some medication from a pharmacy. Thereafter, he was experiencing a constant headache but he never thought he needed to have his blood pressure checked. That is what apparently triggered his collapse, coupled with the effects of the flu.
Allen thanked all the ministers, doctors and medical personnel who tended to him after his collapse and all those persons who until now still have him in their thoughts and prayers.
When he collapsed last Thursday, the National Assembly was briefly adjourned so that the doctors in the House could tend to him and ensure that the necessary medical attention that was required was available to Allen. He was later rushed to the Georgetown Hospital in an ambulance and was admitted to the Caribbean Heart Institute (CHI), where several tests were conducted. He remained a patient of the CHI until he was released on Wednesday.
Around the Web