Guyanese-born Tevin Barnes was among four young men who took the oath of Eagle Scout on Sunday, April 7, during an emotionally-charged ceremony at the Elmwood United Presbyterian Church in East Orange, New Jersey, USA.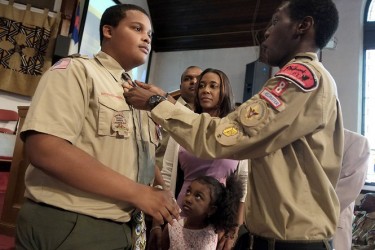 Barnes, 18, who migrated to the US at the age of five, is the son of Compton Barnes of Guyana and Wendy Cummings-Persaud of Maplewood, New Jersey.
He and his three peers were lauded for being part of history. It was the first time that their troop—Troop 8, one of the oldest scout troops in the United States of America and one of the longest running African-American troops in New Jersey—had four young men becoming Eagles at one time. Only one in every 100 scouts ever achieves Eagle status.
Eagle Scout is the highest advancement rank in the Boy Scouts of America. To earn the rank, a scout must progress through the ranks of tenderfoot, second class, first class, star and life. A scout must also earn 21 merit badges. Barnes became a Cub Scout in May 2006 and went on to earn the Arrow of Light Award, which is the highest award in Cub Scouts.
On his way to attaining Eagle status, he earned merit badges in camping; citizenship in the community, nation and world; communications; emergency preparedness; environmental science; family life; first aid; personal fitness; personal management; swimming; archery; disabilities awareness; home repairs; Indian lore; leatherwork; nature; photography; theatre and wilderness survival.
In addition, he conducted a clothing drive for the American Red Cross and served as Assistant Senior Patrol Leader and then as Patrol Leader. He also successfully completed the Eagle Scout Board of Review.
Barnes, a senior at Columbia High School in Maplewood, who will graduate in a few months, is absorbed in Theatre Arts. So much so that Troop 8 Scoutmaster Glenn Brown, who chaired the proceedings, said he saw an Emmy, Tony or Oscar award in his future.
Brown, who never managed to attain Eagle status himself, was exceedingly proud of the four young men—Barnes, Anthony Brownlee, Wayne Holland III and Frank Thompson Jr—whom he had mentored and watched grow up.
"In this part of the country, it is unusual for an African-American urban scout troop to have four Eagle Scouts at the same time," Brown said.
Troop 8 was established in 1916 and inclusive of last Sunday's inductees now has 34 Eagle Scouts.
Barnes, Brownlee, Holland and Thompson received monetary gifts and numerous awards including from Mayor of East Orange Robert L Bowser, who was on hand to make the presentation, as well as certificates from US President Barack Obama, who is the honorary president of the Boy Scouts of America and First Lady Michelle Obama.
Since its introduction in 1911, the Eagle Scout rank has been earned by more than two million young men. The title of Eagle Scout is held for life, thus giving rise to the phrase "Once an Eagle, always an Eagle".
Some famous Eagle Scouts include Neil Armstrong, 38th President of the United States Gerald Ford, Academy Award-winning director Steven Spielberg and Basketball Hall of Famer (later US Senator) Bill Bradley.
Around the Web