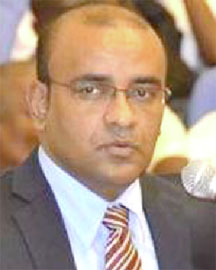 Former president Bharrat Jagdeo on Thursday used the ongoing court case, in which he sued a columnist for libel, to suggest that there seems to be a veiled "resurgence" of sentiments against Guyanese of East Indian-descent.
He made the remarks at the funeral of Hindu priest and former government minister Reepu Daman Persaud at the International Conven-tion Centre, at Lliendaal.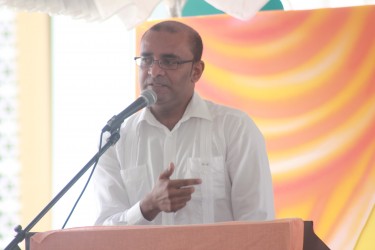 While he has not appeared in the court case, Jagdeo's witnesses have been under pressure on the witness stand to explain why there is exclusion of Afro-Guyanese in some sectors—like the foreign service—and a preponderance of Indo-Guyanese, many of them on contract, to the Office of the President.
On Thursday, Jagdeo tried to re-orient the argument in a way that critics say could heighten societal tensions.
There seems to be a "resurgence in a hidden way" of feelings against Guyanese of East Indian-descent, Jagdeo said.
"…Recently 38 persons, because their names (are) of East Indian-descent, were used in a case to say that the People's Progressive Party, because they [are] employed in the public service, is practising discrimination; that we are giving people of Indian-origin preferences. Now, a lot of those people have served either 30 years in the public service, some joined the public service even when we were in the opposition; but the only reason their names were in that list that [Head of the Presidential Secretariat Dr. Roger] Luncheon is very familiar with, because he faced the brunt of it, is because of their origin, their East Indian-origin," said Jagdeo, in a clear reference to the ongoing libel case filed by him after he was accused by Kaieteur News columnist Freddie Kissoon of being an ideological racist.
Jagdeo filed a $10M libel suit against Kissoon, the newspaper's editor Adam Harris and the National Media and Publishing Company Ltd, the publishers of Kaieteur News, following the June 28, 2010 column, "King Kong sent his goons to disrupt the conference."
During his testimony, Kissoon said, among other things, that his research showed that the Jagdeo-led government facilitated East Indian dominance in every public institution, including the Guyana Police Force.
Jagdeo on Thursday said that he was bothered that there seems to be "in the mean politics of Guyana, a resurgence in a hidden way" of anti-East Indian sentiment. "This, I feel, was important… pandit believed in that for all of the people of our country regardless of their race and their religion, he believed that every child of every race and every religion should have equal opportunities…," he said.
The former president referred to the 38 persons. "What is the message to people of East Indian origin? If you're PPP or PNC, if you are Christian, Hindu or Muslim, if you're a sugar worker or a professional, once you're of Indian origin, you should keep your children home, don't send them to school. The same colonial message! Because, if, heaven forbids, they become qualified and they get a job and the PPP is in office, then it has not to be because of our merit but rather our race," Jagdeo argued.
"That was the lesson of that whole episode and today the person who did that is the leader of one of our parties," he said in an apparent reference to AFC Chairman Nigel Hughes, who is Kissoon's lead lawyer.
Around the Web