The Guyana National Broadcast Authority (GNBA) has found no reason to revoke any broadcast licences previously granted, Chairperson of its Board of Directors Bibi Shadick said on Monday, while accusing the private media of attempting to bully her on the issue.
Shadick, who is a PPP/C MP told the National Assembly during her address on the budget that as head of the broadcast licensing authority, she was not about to give in to pressure by those who were upset with the way in which  radio licences were given out by former President Bharrat Jagdeo.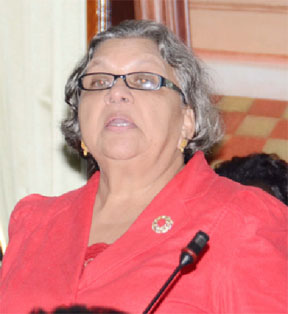 "I have never succumbed to bullyism, don't expect to succumb to bullyism and I will not head a Board which will buckle to those things," she said, while accusing private media entities of intimidation and calling it bullying in its rawest form.
Shadick stated that the GNBA Board "has never discussed revocation of any licences," while emphasising that the authority is not legally authorised to revoke licenses without cause. To date, she added, the authority has not found any reason to revoke any of the issued licences.
Before leaving office in November 2011, Jagdeo controversially distributed a number of 10 radio licences as well as frequency allocations among mainly friends and supporters of the PPP, including Telcor and Cultural Broadcasting Inc, owned by family members of Minister of Natural Resources and the Environment Robert Persaud.
Many have come out and denounced the awards, citing the absence of any clear objective criteria in making them as well as the disregard for applications from established media entities.
The Guyana Media Proprietors Association has called for a reversal of the decisions, while the Guyana Press Association has registered its disturbed that the distribution of the frequencies was weighed in favour of friends of the governing party.
But Shadick was adamant that the allegations that the former president was "giving away a limited commodity to friends, to family and PPP cronies" were false. She further noted that all broadcasting licences approved before the Broadcast Act came into force had to reapply for permission to continue under the Act. "All the entities applied… all the entities were written to, [those] given permission to broadcast, and without exception every entity was asked to apply under the Broadcast Act of 2011, every single entity. There has been no exceptions and no exceptions will be made," she said.
Shadick added although the GNBA had the ability to reject licences under the revision process, when the Act came in to being the authority did not do so. "Thirty-six continuing broadcasters submitted documentation and applications to be licensed under the Act. Of those 36, 14 have complied with all the requirement, so those 14 are well on their to being granted licences," she said, while adding that the deadline for broadcasters to reapply was adjusted as the authority also needed time to process and organise applications.
Shadick also addressed a TV licence for the Region 10 administration, maintaining that notwithstanding government agreeing to allow the region to repossess a channel, the region would have to apply. "I've said it publicly, I say it again in this House: Our Board is only authorised to grant broadcast licenses to a company or a trust, not a country or a region. I have asked and I have asked those who have an influence with the administration of Region 10 to tell them to please register a company or form a trust and get a trustee. Make an application and the board has made a commitment that as soon as the relevant documentation is sent to us, we will hold a special meeting to scrutinise… make sure that the residents of Linden get television broadcast through a station that is properly licensed under the Act," she said.
Around the Web