Guyanese Sonny Ramdeo, founder of the now defunct airline EZjet airline, is making a second attempt to be granted bail before a new judge and through a new non-state-appointed attorney.
The move comes less than three months after he was denied a bail release and with six new money-laundering charges looming. In January in the Southern District Court of Florida, where Ramdeo is accused of three counts of wire fraud, Magistrate Judge Dave Lee Brannon had ordered Ramdeo's confinement in a correctional facility ahead of his trial, which is set to begin October. The judge had deemed him a flight risk and noted that the weight of the evidence against him was very strong.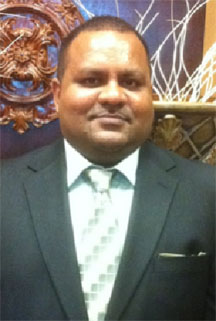 However, Ramdeo has now filed a new motion through his new attorney, Valentin Rodriguez Jr before Judge Kenneth A Marra, seeking to be released on bail. This is being opposed by the state.
The application came one day before a superseding indictment charging him with an additional six counts of money laundering was returned by a Federal Grand Jury sitting in a West Palm Beach court.
In his motion, Ramdeo submitted that he did not have a fair opportunity to present evidence to show that his international travel was related to EZjet and that the circumstances leading to his arrest were not as a result of him hiding from law enforcement, but as a result of his trying to resolve financial issues surrounding the airline. He also stated that he never intended to commit fraud. According to Ramdeo, PayServ—the company through which the fraud is alleged to have been committed—was a real company and he has substantial ties to South Florida.
Ramdeo also contended that there is an extradition treaty between Guyana and the US and therefore if he fled here he could easily be forced to return to the United States. He also indicated that there is a bona fide defence to the wire charge.
However, US Attorney Ellen L Cohen, in countering Ramdeo's arguments, said that he had enough opportunity to present or proffer any evidence he chose to proffer to the court at the time the hearing was held to determine whether bail should be permitted. The lawyer noted that the court had found that he had dual citizenship with Guyana and the US and apart from his extensive travels to Guyana, he also travelled extensively to Trinidad and Tobago, Canada and Barbados. Therefore, Cohen argued, there is nothing on record to show that the only country he might abscond to is Guyana.
Turning to the circumstances of his arrest, Cohen noted that Ramdeo had fled from his job on the day the fraud was discovered; immediately left his home and did not return. He was found hiding in an illegal basement apartment and there were no phones to call him, no known address to track him and no method of contact other than an email address. And at least one or more emails sent from his address while the government was attempting to find him originated from a location in Canada. Through the emails he also refused to meet agents and as such, clearly he was hiding and was successful in doing so for almost two months.
Meantime, on the issue of extradition, Cohen submitted that the treaty of extradition covering Guyana was executed by the United Kingdom and the US on June 24, 1935. The treaty extended to Guyana and is in effect but permits extradition on charges alleging a defendant obtained money by false pretence and some fraud crimes. It does not permit extradition on money laundering charges. Trinidad and Tobago, Barbados and Canada have extradition treaties with the US which permit extradition for fraud and money laundering charges.
But Cohen said there is no basis to believe that these are the only countries Ramdeo might flee to in an effort to avoid prosecution. As such, there is no basis for him to be granted bail and he should remain in custody, Cohen said.
A hearing on the issue will be convened on Monday.
The indictment against Ramdeo alleges that from September 2003 until October of last year, he wired money into his accounts that was to have been used to cover payroll taxes for Promise Healthcare and 11 of its hospitals, for which he was payroll manager. He allegedly formed two companies, PayServ Tax and EZjet GT, to receive the money, prosecutors said.
According to the indictment, in 2011 and 2012, Ramdeo made two transfers to his account, totalling US$363,700, which was to be used for payroll taxes at a hospital in East Los Angeles. In October, he allegedly diverted US$100,828 that was to cover payroll taxes for employees of a hospital in Gonzales, Louisiana.
If convicted, Ramdeo faces up to 20 years in prison and a fine of US$250,000 or greater on each count of conviction.
Around the Web