Team Sirca yesterday emerged as the winner of the Open Data Code Sprint, which saw four teams of computer programmers coming up with a programme idea in a 24-hour period.
The four teams that participated in the event, which was hosted by the University of Guyana (UG), were: Sirca, Here for the Food, Code Stars and Banks Pacesetters Programmes. Sirca emerged as the winner, while Code Stars took the second place followed by Here for the Food in third place. The winning programme will compete in the regional leg of the competition, which will see eight countries participating.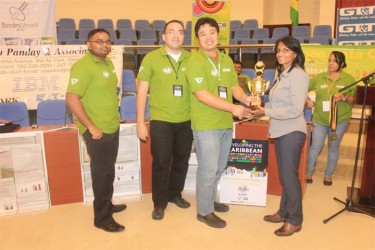 The winning programme saw the creation of a web application that targets farmers and allows them to get the price of crops on seasonal bases. The application, which is functional but not commercial, is designed to be use on mobile phones in addition to computers.
Open Data Code Sprint is a competition involving Caribbean countries where teams of developers compete to build solutions to social problems using open data. This is the first time Guyana has taken part in the competition, which was held at the International Conference Centre, at Liliendaal.
The competition was focused on open data, software innovation, and technology trends and highlighted the focus on open data as a catalyst for regional development.
Speaking at the simple awards ceremony, Canadian High Commissioner David Devine stated that as the Caribbean continues in its quest to find viable solutions to issues, that have an impact on development and advancement of their societies, such as crime, violence and poverty among others, advancing information and communication technologies and forums like the Open Data Sprint competition can offer new tools to tackling these problems. He added, "this is also achieved by developing the talent, the human capacity required to compete in globally competitive world."
Devine also encouraged the programmers to continue to embrace the use of information and communication technology in all possible sectors for national development in order for them to reap the full range of benefits it offers.
Head of the University of Guyana Computer Science Department Lenandlar Singh said they managed to take part in the competition and pulled it off successfully after being undecided as to whether to participate or not. He said that at first they were not certain who they would have to participate but persons eventually came onboard.
Around the Web