Kitty resident Anthony Matherson, who found a loaded gun at the seawalls but was nabbed by police before he could sell it, will be spending the next three years in jail.
Matherson, 19, of 79 William Street, Kitty, was sentenced on charges of unlawful possession of a firearm and ammunition, after he pleaded guilty yesterday at the Georgetown Magistrates' Court.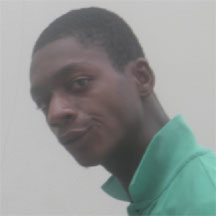 Chief Magistrate Priya Sewnarine-Beharry sentenced him to serve three years on each charge, but ordered that the sentences run concurrently. She also imposed a $100,000 fine.
According to the police, on April 10, at Georgetown, Matherson had in his possession a .38 Taurus revolver, without being the holder of a firearm licence in force at the time. He also had in his possession three live .38 rounds.
Matherson was unrepresented by an attorney at yesterday's court proceedings.
Police Corporal Seon Blackman told the court that police were on mobile patrol in the Festival City area on Wednesday when they saw Matherson, who was in the company of two others, riding a pedal cycle.
Blackman said the police gave chase after him and he was later apprehended and a search was conducted on his person and the revolver along with three matching rounds was found in the crotch of his pants.
Matherson was asked by the police if he was a licensed firearm holder but he told the police he was not, Blackman said. As a result, he was arrested and charged. He said that Matherson told the police that he found the gun on the seawalls and he was going to sell it to a man.
When asked by the Chief Magistrate if he had anything to say, Matherson told the court: "Easter night I was on the jetty burning a joint with mah frens. I jump down and I jump pun de gun… So, I pick it up and show ma frens. I go home with the gun and put it in a statch."
Matherson pleaded with the court to be lenient with him, saying, "I am very sorry yuh worship. Can you please give me a reasonable sentence? This is my first offence." Blackman indicated to the court that the defendant was charged before with simple larceny but the matter was settled.
Around the Web