Police were yesterday accused of conducting a sloppy investigation into the brutal murder of Cove and John pensioner Millicent Prince-Cummings after no tracker dog was used by ranks who only made attempts to speak to neighbours more than 24 hours after the crime was committed.
Up to press time last evening investigators had not identified a suspect in the death of the 90-year-old woman who it is suspected was also sexually assaulted. Several persons who occupied the house behind the abandoned one where Prince-Cummings was found were released from custody on Friday afternoon.
A relative told Stabroek News last evening that he and others were moving around the area trying to find any information on who might have been responsible for the death of the woman. The relative said that so far there has been "sloppy work."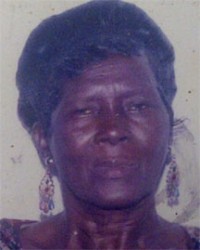 It was explained that it was only last evening that the police returned to the area to speak with other neighbours. Added to that, the relative said, the ranks were not the same ones who had dealt with the matter on Friday morning.
The relative further said that based on what he saw the ranks came to the scene unprepared as they had "no dog."  A dog, he said, could have been used to track the murder weapon or to pick up the trail of the killer giving ranks an idea where he went and how far.
According to relatives there are a number of drug addicts (junkies) who reside in the area and given the nature of the crime, investigators should have questioned a few of them. "Even that they didn't do," the upset relative said adding that more ought to be done in terms of how the matter is being investigated.
The bloody remains of the mother of one were found beneath an abandoned house on the Cove and John, East Coast Public road a short distance from where she lived. It was a man who lived in a back house who made the gruesome discovery around 0530 hours as he was walking though the yard on his way to work. She was nude from her waist down and her head was badly battered leaving investigators to conclude that she had been beaten and raped.
Relatives had said that the elderly woman regularly took walks. They said that she was heading in the direction of Victoria and could have been attacked as she passed the abandoned house. It is believed that she was dragged beneath the building which is located next door to a cemetery.
Investigations are continuing.
Around the Web