Minister of Agriculture Dr Leslie Ramsammy described as "disappointing and unacceptable" the opposition's proposal to cut $814 million from the Ministry of Agriculture's budget allocation relating to the purchase of 14 drainage pumps through a line of credit from India.
Speaking yesterday at a press conference held at his office, he said: "Of the $51 billion of expenditure identified in the Notice Paper, there is a signal to cut most of that, some $40 billion.
"My own concern is that any part of the budget that is cut would be a problem, but I want to address the one component on a capital budget item for the Ministry of Agriculture totalling $1.3 billion. [The AFC] has proposed to cut that by over $814 million, reducing that capital items budget to just over $500 million, almost 60 per cent of that capital budget," Ramsammy said.
"This is unfortunate… that line item – capital item relates to two very important capital projects for Guyana, not just for agriculture," he said. "The two items that are covered by the $1.3 billion are the completion of the Hope Canal and the acquisition of 14  pumps utilising a line of credit from the Government of India through the EXIM Bank [of US$4 million]," he said.
He said he noticed that the amount slated to be cut from the Ministry of Agriculture is the exact sum for the purchase of the pumps. "As the Minister of Agriculture and as a citizen of Guyana, I find this as repulsive. It is an abominable act to target pumps that are absolutely required, not only for the development of our country but to promote better standard of living for our people," he said.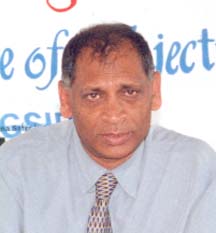 He said if the money for the pumps is cut it is not only the farming communities which would be put at risk but residential communities as well. He said pumps from that purchase were slated to be located at Lima on the Essequibo Coast in Region Two; Windsor Forest and Canal Number Two Polder in Region Three; Dazell, Paradise and  Enter-prise in Region Four; Pine Ground Mahaicony in Region Five; Canje, Number 19, Albion, Rose Hall Town, and Crabwood Creek in Region Six.
"These are significant inputs to improve the lives of people and agricultural production in Guyana, and to target people like this is wicked and unacceptable. I have absolutely no idea why they would target these pumps," he said.
The minister said that so far six pumps have been received and some components for the additional eight have been received as well. He said inspections must be carried out on other components before these are shipped to Guyana. Some are due to arrive by April 20.
He said the tenders were opened in Guyana and India in 2011, and two companies submitted bids. "The contract became operational in March of 2012 and the contract end was supposed to be March of 2013. The Government of Guyana gave a one-month extension to the end of April, 2013," he said.
"I would want to urge my colleagues in the AFC and in APNU that they should be a little bit more sensitive to the needs of the people… Whatever problems they have with me or the PPP/C government should not be extended to penalise ordinary people," he said.
As minister, he continued, he invited the APNU and AFC spokespersons for agriculture, Dr Rupert Roopnaraine, and Khemraj Ramjattan, respectively, to talks to address their concerns in the sector. He said that while Roopnaraine has visited his office many times, Ramjattan has not done so. He said that he and Ramjattan have however spoken briefly on the sidelines during parliamentary sittings.
On the issue of the opposition demanding that there be accountability for the funds made available to GuySuCo in the 2012 budget, he responded that he would be furnishing the opposition with a breakdown of how the funds were utilised. "When the money was voted last year I had indicated to them how the money would be spent and throughout the year I have indicated how the money was spent," he said. "Last year at this time one of the major issues in GuySuCo was the job evaluation payments which amounted to close to $1 billion, and the money was used in part to do that. Part was utilised for the Bosch Engineering work [on the Skeldon factory]," he said. "But a breakdown would be given to them as I would for the $1 billion that is budget[ed] for subsidies to GuySuCo this year. These are not secrets and once asked for they would be provided," Ramsammy said.
Around the Web