CARACAS,  (Reuters) – Venezuelan opposition leader Henrique Capriles charged today there was a plot to change the result of the country's presidential election, which will decide if a longtime loyalist continues Hugo Chavez's self-styled socialist revolution.
The mood was triumphal by mid-evening at the headquarters of acting President Nicolas Maduro, who led Capriles in most polls heading into today's vote, buoyed by Chavez's blessing before he died from cancer last month.
Capriles, a 40-year-old state governor, called on the National Electoral Commission to close polling stations that were due to shut their doors at 6 p.m. (6:30 p.m. ET/2230 GMT), unless there were still lines of people waiting.
"We alert the country and the world of the intention to try and change the will expressed by the people," Capriles said in a Twitter message, without giving details.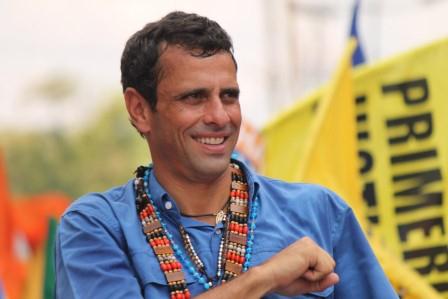 Government officials described the allegation as irresponsible and said it ran the risk of adding to a tense atmosphere, which led to isolated scuffles at some centers.
"For a few days the 'anti-Chavistas' have been trying to create an absurd notion of fraud in an automated voting system, one that is recognized in the whole world as secure, trustworthy and transparent," said Maduro's campaign chief Jorge Rodriguez.
Some witnesses reported isolated incidents of violence, including clashes during vote-auditing at two centers in Caracas.
Some people were hurt in a fracas in the Santa Rosa de Lima district of the capital, while teargas was thrown in another city district, Prados del Este, the witnesses said.
Lines were shorter than they were at the last election in October, when an ailing Chavez comfortably beat Capriles. Then, a record 80 percent of registered voters cast ballots following an aggressive get-out-the-vote campaign by Chavez's camp.
"We're going to elect Maduro because he's following the path set by Chavez," Morelia Roa, a 58-year-old nurse, said after casting her ballot in a working class Caracas neighborhood.
Maduro, a 50-year-old former bus driver, has promised to deepen Chavez's "21st century socialism" if he triumphs. Capriles, who has generated widespread enthusiasm among the opposition, wants to take Venezuela down a more centrist path.
Whoever wins will inherit control of the world's biggest oil reserves in an OPEC nation, where stark political polarization is one of Chavez's many legacies. Also at stake is the generous economic aid Chavez showered on left-leaning Latin American governments from Cuba to Bolivia.
Given the deep mutual mistrust on both sides, some worry that a close or contested result could spark unrest. Some 170 international observers were on hand, many from left-leaning political parties across Latin America.
Today's vote was the first presidential election in two decades without Chavez on the ballot. In many ways, though, it is all about the late president, who was viewed by the poor as a messiah for giving them a political voice and for funneling billions of dollars of oil revenue into social programs.
Critics saw him as an autocratic leader who bullied opponents and weakened the economy with waves of nationalizations, price controls and heavy government spending.
'SON OF CHAVEZ'
Maduro campaigned as a loyal disciple of Chavez, repeatedly calling himself an "apostle" and "son" of the late president. Chavez gave Maduro a huge boost by publicly endorsing him in his final speech in December before heading to Cuba for his last cancer operation.
True to form, Maduro dedicated his vote on Sunday to his political mentor.
"The last 21 years of my life have revolved around the dreams of a man, of a giant," an emotional Maduro said. "I never thought I'd be here. But here I am … And I'm going to be president of the republic for the next six years."
If Maduro wins, he will immediately face big challenges as he tries to stamp his authority on a disparate ruling coalition while lacking his mentor's charisma, or the healthy state finances that Chavez enjoyed in last year's race.
It is hard to predict how he might do things his own way. Like many senior officials, Maduro was passionately loyal to Chavez and never voiced a different opinion in public.
Supporters say he could use his background as a union negotiator-turned-diplomat to build bridges, perhaps even with the United States after tensions during Chavez's 14-year rule.
But there was little sign of his softer side on the campaign trail. Maduro's rhetoric veered from outraged – alleging opposition plots to kill him using mercenaries – to light-hearted, such as poking fun at his own often-cited tale of how he was visited by Chavez's spirit in the form of a bird.
More often he sounded indignant, accusing the "far right" of plotting a repeat of a short-lived coup against Chavez a decade ago if the opposition loses today's vote.
Maduro's camp said his Twitter account was hacked during the day, as well as those of other senior Socialist Party members, with obscene messages posted on them.
Should he pull off an upset, Capriles will also have a tough time running Venezuela. One of the biggest challenges will be to win over suspicious supporters of Chavez and Maduro. Both repeatedly derided the opposition candidate as a pampered rich kid, a traitor, and a puppet of "U.S. imperialism."
In last year's campaign, Capriles carefully avoided disparaging Chavez, in a bid to woo the poor. He has not afforded Maduro the same respect, denouncing him and his "coterie" as phony socialists who have enriched themselves while paying only lip service to Chavez's deeply held ideology.
Capriles touts a Brazilian-style model that mixes pro-business policies with heavy state spending on the poor, a recipe that made Brazil one of the world's hottest emerging economies in the past decade.
The opposition hopes bubbling discontent over daily problems such as rampant crime, high inflation, chronic power outages and occasional shortages of food staples and medicines will tip the vote in favor of Capriles.
"Capriles is our only hope. He's the best leader the opposition has had and could be a great president," Alberto Gomez, a 55-year-old bakery owner, said after voting in an upscale district of Caracas.
Around the Web