Guyanese-born Abby Greene living in Vancouver, Canada for the past 24 years and long-time friend of the Tina Insanally Foundation, on a visit to Guyana during the first week of April 2013, volunteered to hold two-one hour improvised percussion music and dance sessions called 'Pulse Play' for the children from Bless the Children Home and the St. John Bosco Orphanage.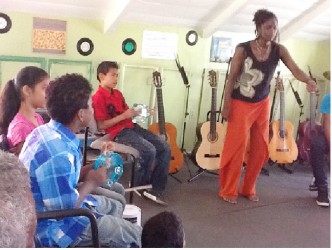 A release from the Foundation said that using tin cans, plastic bottles and buckets, boxes and sticks, she got the children to beat pulsating rhythms.
As the tempo picked up, Greene energised herself and the students with her African dancing.
This was a novel experience for Greene to work with children, ages 7 to 16 years. She normally deals with adults – senior citizens in homes or office workers at corporate firms during their lunch hour as therapy.
The Foundation expressed thanks to Abby for her assistance in their work with the children's homes.
Around the Web