After blocking a road at Ituni, Region 10 (Upper Demerara/ Upper Berbice) yesterday morning in a protest over forests, residents of the district yesterday met with forestry officials who promised to return on Wednesday morning to have a meeting with them and have the problem resolved.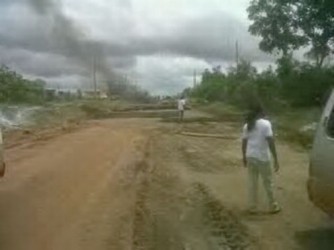 In their protests the residents said that while they are being allocated lands to work some 100 miles from their homes, coastlanders are being given concessions in close proximity to their village.
They said that yesterday their frustrations reached saturation point and they decided to block the road with logs and burned tyres preventing traffic from moving on both sides.
"Look this foolishness, we living in Ituni and getting land 100 miles from here and people from town coming and getting to work all these lands near we own home. Nah, this ain't fair, then when we working some land by the time we thing processing we getting chase off…Chase off? In we own home? They must be mad?" a resident, who requested anonymity told Stabroek News yesterday afternoon.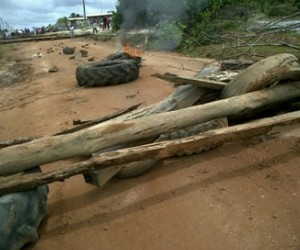 Chairman of the Ituni Loggers Association, Raymond Boyd said that he was holding the Deputy Commissioner to his word and that he anticipates a resolution soon.
He said that word of the protest and roadblock reached Guyana Forestry Commis-sion (GFC) officials and Deputy Commissioner, Tariff Khan, held a meeting with loggers and promised to return on Wednesday morning at 10 when he and other officials will meet with the community. fter the meeting with the GFC official, residents removed the barriers on the road and traffic returned to normal.
Around the Web