Concerned at falling gold prices, government and mining industry representatives will meet today to discuss the impact on the local economy.
Even though some miners are optimistic that prices will rally, they say that the price drop is a "wake-up" call and operations will need to be more efficient.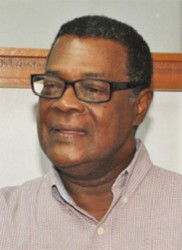 "We're hoping that it's temporary but we have no control over that," President of the Guyana Gold and Diamond Miners Associa-tion, Patrick Harding told Stabroek News yesterday even as he warned that operations will have to be more efficient, be better organized and understand what is happening. "We're not scared. We're gonna rally," he said adding that "hopefully this decrease in price will not deter people from investing."
The price of gold fell to its lowest level in more than 20 months on Friday amid fears that sales of the precious metal forced on Cyprus by its financial plight would lead to wholesale dumping by hard-pressed countries in the coming months. The UK Guardian reported that at the end of a week dominated by the plight of the troubled Mediterranean island, gold fell below $1500 an ounce for the first time since July 2011 in anticipation that Cyprus would seek to raise €400m by releasing a portion of its reserves on the market.
Cuts in the 2013 gold average price forecasts by major international banks also weighed on gold prices triggering selling.
Today's meeting with all licenced gold dealers and members of the gold sub-sector has been called by Minister of Natural Resources and the Environment Robert Persaud, to discuss the various issues and impact of the volatility in gold prices on the local economy.
Gold plays a pivotal role in Guyana's economy and for 2012, the income from gold exports amounted to half of Guyana's total export earnings of US$1.5 billion. Gold was the largest foreign exchange earner over the past several years and for 2012 exports amounted to US$716.9 million, a 38.7 percent increase over 2011. The next highest foreign exchange earner was rice with receipts of US$196.2 million, a distant second.
Last year's declared gold production of 438,645 ounces was also the highest recorded in the entire history of the gold industry excluding Omai production, and was 20.8 percent higher than 2011. The industry also employs tens of thousands of persons and there has been increased investment over the past few years with investors from across the spectrum.
Finance Minister, Dr. Ashni Singh, in his 2013 budget speech, had noted gold's importance to the economy. "The gold mining sector has been playing an increasingly important role in the domestic economy, with production reaching unprecedented levels. The growth of the industry has resulted in significant job creation and multiplier economic activity in mining communities and indeed throughout the country," he had said.
The minister has projected growth for the mining and quarrying sector this year. "Expectedly, the sector's growth will continue to be led by gold with ongoing favourable outlook for prices and production targeted at 450,031 ounces, representing a 2.6 percent expansion in output," he had said.
Threshold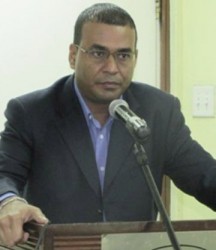 Sources said that in terms of outlook and revenues from gold, government would have budgeted for income at a certain price per ounce and any drop below this price would have serious consequences. Should the price fall below this threshold level, the source explained, it would "throw off their plans and their expectations of the economy." The source said that it was a wake-up call for both government and the miners. It was also noted that there are new investors in the sector and increased production could make up for decreased revenues from gold but would be subjected to a number of factors including further drops in price.
Last week, Reuters reported that gold sank almost 5 percent into so called "bear territory" as institutional investors fled bullion in favour of other safe-haven assets amid concerns about central bank sales and souring sentiment. Relentless selling sent gold below $1,500 an ounce for the first time since July 2011, and put the market on track for its worst weekly performance since December 2011. "The breadth of the sell-off will underline some expectations that gold's meteoric rally may be coming to an end after 12 years of gains," Reuters reported.
The New York Times also reported that further declines are anticipated with Goldman Sachs on Wednesday becoming the latest big bank to predict further declines, forecasting that the price of gold would sink to $1,390 within a year, down 11 percent from where it traded on Wednesday. Société Générale of France last week also issued a report titled "The End of the Gold Era," which said the price should fall to $1,375 by the end of the year and could keep falling for years.
Harding yesterday said that any marginal decrease in price will affect the profitability of operators with small operators likely to feel more of an impact. "We are hoping maybe that it is just a hiccup," he said. "This is still a positive industry," he added.
The miners' association president said that new investors will have to plan their operations in a better way and also be more efficient which is what the association has been advocating. "Even though the price has dropped, I don't think it will deter many people," he said. "We're still positive that the industry is going to rally."
The gold industry is one of the principal destinations for inward foreign direct investment with several large scale investments in the sector. Guyana Goldfields Incorporated and ETK/Sandspring Resources Limited are both expected to commence commercial production by 2015 and it is expected that together, these investments will generate 550 jobs during the development phases and another 400 jobs during mining operations.
Other large scale investments by Sacre-Coeur Minerals Limited and Eagle Mountain Gold Corporation are underway and are anticipated to commence operations in 2014. "The demonstrated level of investor confidence and anticipated continued high price levels for gold on the world market augur well for the sector," Singh said in his budget speech. Falling prices will likely have a negative impact on their proposed operations.
Many new smaller-size operations have also invested heavily in new equipment and taken loans from banks and falling prices will negatively impact them. One source said that that it was difficult to say what the break-even figure per ounce is for miners given the different economies of scale at which they operate as well as the location of the operation. As an example, the source said that a miner who relies on air transport will have higher costs compared to one that utilizes river or land transport. Fuel prices also impact on operations and this has been lower in recent days.
The boom in gold mining in Guyana over the last few years has been unprecedented. Mining areas, abandoned in the past because it was unprofitable to extract the gold have been re-worked. There has been a flood of persons and goods into interior mining operations. Environmental damage has been great and it was suggested that a positive from falling prices would be that miners operate in a more efficient manner and undertake prospecting before mining.
Around the Web