A labourer who police said was a suspect in a robbery was fatally shot by a policeman at New Amsterdam early yesterday morning after he reportedly attacked the law enforcement officer during an attempt to arrest him.
Dead is Marlon Shepherd called 'Critters,' 29, of Smythfield, New Amsterdam, Berbice. The shooting occurred at about 1 am yesterday at Republic Road and Cheddi Jagan Street, New Amsterdam. Following the shooting, Shepherd was taken to the New Amsterdam Hospital where he was pronounced dead on arrival.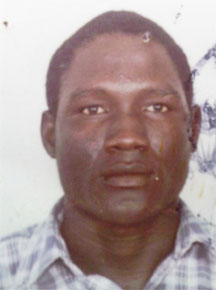 In a statement, the police said that the shooter, an Assistant Superintendent of Police had responded to a report of an armed robbery at Matthew Allen Road and Strand Road, New Amsterdam, and pursued the suspect who was riding a bicycle and had been pointed out by the victim.
The statement said that the officer caught up with the suspect at Republic Road and Cheddi Jagan Street and "during efforts to arrest him the suspect attacked the policeman with a machete and a knife."
"Despite calls for him to desist, the suspect continued to attack the Officer who was forced to resort to the use of force and shot him to his chest," the statement said.
The police said that Shepherd has a matter in court having been charged with robbery under arms. "This resulted from investigations into a report where on February 12, 2013, he attacked Daryl Edwards, 18 years, of Tucberg Park, New Amsterdam, while armed with a cutlass at Garrison Road, New Amsterdam, and took away his cell phone and jewellery," the statement said.
When Stabroek News visited Shepherd's home, relatives expressed concern at the shooting and were upset since they said that he does not interfere with anyone. His mother, Joanna Shepherd said that police ranks went to the home at around 6:30am yesterday and told her to go to the New Amsterdam mortuary to identify a body since they suspected that it was her son.
She lamented that she was not given any explanation as to what may have happened to him and after receiving the message, she started to cry and her daughters went to the mortuary and identified the body. They said that the body bore bullet wounds on the left side of the chest.
Relatives said that Shepherd was under the influence of alcohol when he died because, according to them, he was returning home from Rainbow Bar on Charles place. The last time they had saw him was sometime around 9:30pm on Saturday when he had returned home to take a shower and left to go back to work.
The family questioned what government is doing about the "constant" killing by law enforcers. When asked if Shepherd is the type of person who would get into a lot of trouble, his mother said that he was not a bad person but on a few occasions, he interfered with the law and was before the court on a charge of procession of cannabis.
Shepherd was described as jovial person. He leaves to morn his mother, five siblings and other family and friends. His body is at the New Amsterdam Hospital mortuary awaiting an autopsy.
Investigations are continuing.
Around the Web