Speaker of the National Assembly, Raphael Trotman says he expects that he will be asked to make a ruling on the legality of the planned opposition cuts to the budget beginning today.
He said that both the government and the opposition will have their voices heard, noting that both sides would have compelling arguments.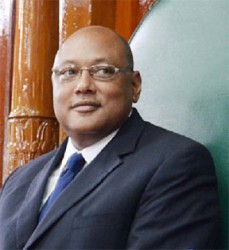 In a statement yesterday to Stabroek News, Trotman said that "something for everyone is better than everything for just one side. In these circumstances I am happy that talks are being convened as compromise and cooperation are infinitely much better than a bloody encounter on the floor of the House".
He said that the ultimate goal was to ensure that the Guyanese populace will get a "budget they deserve and are entitled to." He also stated that the House's "track record for substantive dialogue is not a good one, we only seem to get together in moments of crisis."
While noting that the Speaker's ruling can go either way because "nothing is certain", Trotman stated "after all I have seen and heard over the past few days about budget cuts and the power to cut or not cut, it seems more than likely now that I will be called on to make a decision or ruling that is expected to support one side over another."
While he has not made up his mind on the matter, he said that last year's preliminary ruling by Chief Justice Ian Chang which stated that the budget could only be approved or not approved in its entirety, was a precedent to look back on. "We have both the opposition who think one way, the Chief Justice's ruling and the government who are thinking along the same lines as the Chief Justice so there are many points of view", he said.
Critics have said that all sides in the case that Justice Chang ruled on should have pressed for a final ruling.
The Speaker commented on the planned meeting today between President Donald Ramotar, Khemraj Ramjattan and David Granger, leaders of AFC and APNU respectively, noting that it was a lot of pressure to have discussions on the same day the budget estimates consideration is scheduled to begin. "Meetings are driven by imperatives, when things become critical," Trotman said.
He stated that Guyana was in need of a committee of elders, "there is a place for a permanent team of elders, persons who command respect nationally they don't have to come from any government side…they would be people in our society who have the nation's interest at heart, people who can look at things differently". He said that a group of elders could "keep hot potato issues under constant review…so we aren't scrambling through last minute and the thing is the best decisions aren't made when things get to that level," he told Stabroek News.
The Speaker noted that he has been researching and will continue to do research prior to any decision being made on the budget.
The AFC has already stated that it plans to seek almost $40B in cuts and APNU has made it known that it will not approve the combined $6.8B being used to bail out GPL and GuySuCo.
Around the Web