The Tourism Ministry is spearheading the selection of a new Management Steering Committee to plan the improvement of the facilities at the Number 63 beach in Region 6.
A release from the ministry said that recently a meeting was convened at the City Inn Hall, on the Corentyne.  Several issues were raised including that, to date, there has not been an effective management team of the beach, the inability to raise funds for beach improvements, and the clear lack of land ownership.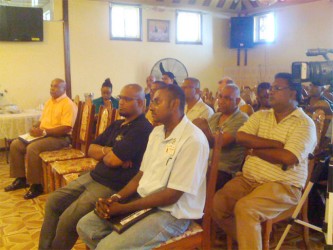 The release said that among the issues raised was the constant littering along the beach and the disregard for the anti littering laws that exist to protect the environment. It was suggested that an entrance fee be levied on beach goers during major events, this will assist in offsetting the cost of any clean up activity following events staged at the facility.
It was noted that any enhancement of the environment surrounding the beach must go hand in hand with an education exercise.
Derrick Cummings, Head of the Small Business Bureau, at the Tourism Ministry chaired the meeting and reiterated the ministry's commitment to resuscitating the 'vibrant, proactive and visionary' beach committee.  He restated the Tourism Minister, Irfaan Ali's commitment to developing the popular tourist attraction in Berbice and wished the committee to be re-established to push the development and enhancement of the area.
The release said that Director of the Guyana Tourism Authority (GTA), Indranauth Haralsingh noted that the reformation of the beach management committee provided the opportunity for the involvement of corporate Guyana and for the marketing, promotion and branding of the attraction.
He pointed to the investment opportunities that exist and urged that the committee work towards developing an action plan that will take advantage of these opportunities.
Participants also discussed the branding of the facility, the enhancement of the surrounding area including the demolition of derelict buildings, security and other matters that hinder the overall development of the area as a top tourist destination.
The stakeholders included representatives from the Chambers of Commerce operating in East Berbice (Upper Corentyne Chamber of Commerce, Central Coren-tyne Chamber of Commerce and Berbice Chamber of Commerce and Development Association), the Regional Development Council of Region 6, Corriverton Town Council, the Guyana Police Force, Sea Defence Depart-ment, Guysuco, the Tourism and Hospitality Association of Guyana (THAG) and the GTA.
They will meet this week to elect the committee to formulate plans for the further development of the number 63 beach, the release added.
Around the Web