Newly sworn in Iranian Ambassador to Guyana Hojattolah Soltani invited a delegation of local stakeholders in the agricultural and industrial sectors to explore opportunities in his country, after being sworn in last week.
Soltani presented his Letters of Credence to President Donald Ramotar at a ceremony held on Thursday at the Office of the President, a GINA report said. The ambassador said his country has vast expertise in a number of areas, including mining, agriculture and industry.
Iran had also offered support to Guyana in the mapping of mineral reserves, when then president Bharrat Jagdeo visited the Islamic state three years ago. This had been followed-up with discussions with Iranian President Mahmoud Ahmadinejad and Supreme Leader Ayatollah Ali Khamenei and an advance team of geological experts from the Geological Survey of Iran (GIS) visiting Guyana on a fact-finding mission. "The delegation comprised experts in geological and mineral investigations who collect results, establish inter-relationships and publish geological maps of Iran," GINA said.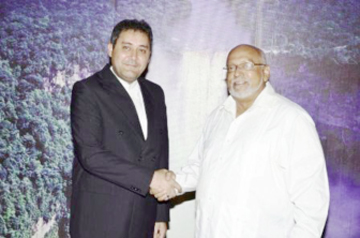 Guyana welcomed the interventions as it lacked the necessary data to support the development of mineral resource projects and the Guyana Geology and Mines Commission's efforts to develop capacity to guide mineral investors.
The ambassador also said the Iranian Government welcomes initiatives to support relations between the parliaments of the two countries.
In response, Ramotar said at the multilateral level, Guyana and Iran are both members of the United Nations, the Non Aligned Movement and the Organisation of the Islamic Conference, all of which serve as platforms for the further strengthening of relations. He expressed the hope that Soltani's appointment will provide an opportunity for the two countries to explore cooperation in several areas and welcomed the suggestions made.
Around the Web