The mother accused of killing her eight-month-old son at Mazaruni, Region Seven, was yesterday charged with murder.
Ashanti Laldas, 25, who was not required to plead to the capital charge, was remanded to prison by Chief Magistrate Priya Sewnarine-Beharry until the start of the preliminary inquiry into the charge.
It is alleged that Laldas, who is originally of Lot 49 Farm, Herstelling, East Bank Demerara, murdered Antonio Laldas on April 8, at Papi Show Landing, Mazaruni.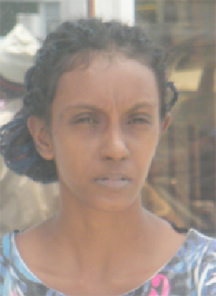 At the Georgetown Magistrates' Court yesterday, Prosecutor Renetta Bentham stated that the accused left with the deceased, heading up a hill. She said persons in the village became suspicious after Laldas claimed that she took the child to his father, a Brazilian, although she did not take any clothes, his bottle or any other essentials.
Bentham added that later, while at a shop in the area, Laldas told a man that while on the mountain with the child, she was raped by two Amerindian men and a Rastafarian and she suggested they may have killed the child.
Based on the contrary report she provided, a report was then made to the Papi Show Landing Police Station and Laldas was later held.
Police, on April 12, said that acting on information, they went to the house the woman occupied at Enachu, where they found the decomposing body of the infant.
She will make her next court appearance at the Bartica Magistrate's Court on April 25 for fixtures of the commencement date for the upcoming preliminary inquiry.
Around the Web